Walking the streets of Vienna leaves me in awe. Each street is prettier than the next. Each building grander. I've now visited in the spring, summer, and winter and it seems that no matter the season Vienna is always charming. The Capital city of Austria is home to beautiful architecture dating back to the Austro-Hungarian Empire. Because it was such a powerhouse for so long, there are so many things to see and do in Vienna. How can you choose?! I've got the top 10 things to do in Vienna, Austria.
Austria is a German-speaking nation and located right underneath, you guessed it, Germany. That's why Vienna, in German, is "Wien" and you'll see that on many signs. Austria also happens to be one of my all-time favorite places to visit and is my most frequented destination in Europe! You can check out all my posts on Austria here.
Whether you have 3 days or two weeks, there are so many things to do in Vienna. But for sanity sake, sometimes it's best to see the best of the best. Here are my favorite, top ten things to do in Vienna. Vienna's top attractions are easy to get to because the city is relatively small. Public transportation is a great way to get from place to place.
Top 10 Things to Do in Vienna, Austria
1. Hofburg
No visit to Vienna is complete without strolling by the Hofburg palace at least a time or two. The Habsburg Empire, one of the most influential empires for centuries, was centered right here. Because of this Vienna is a sprawling cultural hub. Which is also why you'll see such impressive architecture in the city. On the outside of the palace you'll feel like you're stepping back in time with horse and carriages lining the streets eager to give you a lift. Inside, you'll find 2,600 rooms and the highlights include the Sisi Museum, Imperial Apartments, and Hofburg treasury.
I highly recommend the Sisi Museum because it gives an interesting insight into the queen's life. Sisi is a bit like Marie Antoinette, she rebelled from her life as queen and really at the whole notion of being royal. The museum gives an overview of her life, strange eating habits, how she came to be queen, and her tragic death.
I also recommend heading to the gorgeous Austrian National Library. On my first trip to Vienna, I opted out because I thought the price tag of 8 euros was too high. But it's well worth it and full of interesting information.
2. Saint Stephen's Cathedral
The mighty St. Stephen's Cathedral in Vienna is a beacon in the city. With Gothic architecture, this originally 12-century church remains one of the most impressive in Europe. You can climb the tower (it's 343 steps to the South Tower and still the highest point in Vienna) or you can take the lift up for the North Tower (I opted for this since the view is actually a bit better).
Make sure to go inside to see where famous composer Joseph Haydn sang as a choir boy and where Mozart married.
3. Schönbrunn Palace and Gardens
The immaculate, yellow palace is a bit outside walking distance from the city center, but worth the trip to see one of Vienna's top tourist attractions. The Baroque palace is a UNESCO World Heritage Site and not only has over 1,400 rooms, but a vast garden, and a zoo on site. You can tour the Imperial Apartments, or if you're short on time, just take a stroll around the grounds.
Make the hike up the hill to see the palace from a different angle.
4. Natural History Museum
One of my favorite parts about Vienna is that buildings are just as impressive inside as they are outside. The Kunsthistorisches Museum (Museum of Art) is no exception (check out the inside here). I suggest spending a good deal of time here as it's the largest museum in the country. It's absolutely exquisite and has some of the best fine art collections as well as portraits and armour collections from the Habsburgs. There's a wide range of things to see, you won't want to miss it.
5. Opera tour
While the Vienna State Opera building is beautiful outside, its history lies inside. I particularly loved hearing the history of the Viennese Opera and that the intermission was invented by composer Gustav Mahler. Back then, operas used to be quite noisy with people chatting and eating during the performance. Mahler wanted the focus to be on the performers and so introduced the idea of a break. The rest is history.
Chandeliers in the Vienna Opera House are made with 3 tons of bohemian crystal!
6. Belvedere Palace and Museum
Beautifully built in the Baroque style by architect Johan Lucas Von Hildebrandt, the Belvedere was used as the summer residence of Prince Eugene of Savoy. You'll find one of the best collections of Austrian art dating back to the middle ages.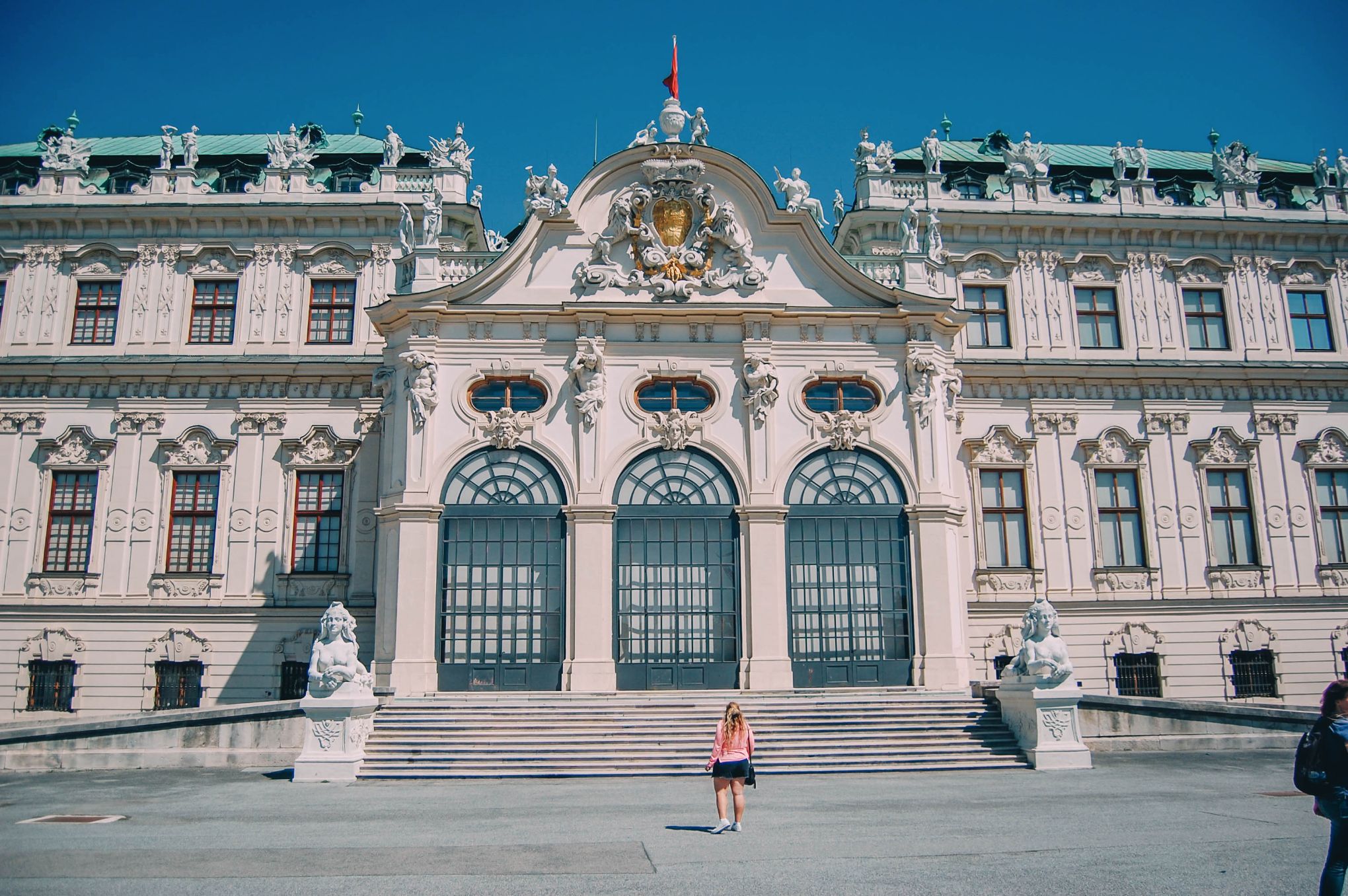 I recommend going to the museum, not only to see the artwork of Van Gogh and Klimt, and the famous "The Kiss" but also seeing the incredible palace rooms and the Marble Hall.
7. Spanish Riding School
Located at Hofburg Palace at the Winter Riding School is the famous Spanish Riding School which dates back to 1562. You'll see the incredible Lipizzaner horses along with their riders as they showcase their unmatched equestrian skills. They perform classical dressage usually accompanied by music.
I've done both the tour and the performance. The tour shares the history as well as how the trainers work with the horses. The performance, however, is one of the highlights of Vienna, in my opinion. It's truly a work of art to watch the horses perform. Make sure to book tickets in advance!
8. Naschmarkt
This outdoor market is much more than meets the eye. Yes, you have myriad food vendors but you'll also find great restaurants (I like Neni) and the perfect place for souvenirs. I love taking home something edible or something to cook with to remind me of my travels, and Naschmarkt is the perfect place for that. Since the 16th-century people have been coming to this large square to trade and buy. You'll also find street art, a rich mix of ethnic food from around the globe, and inexpensive decadence.
If you'd like an upscale dining experience. I suggest heading to classic Cafe Central for a cake and coffee. One of Vienna's favorite snacks.
9. Rathaus
One of Vienna's top attractions is the striking Rathaus or City Hall. During Christmas, this becomes one of the most fantastic Christmas markets, but it's still lovely throughout the year. The Neo-Gothic building is 14,000 square meters along with a 98-meter high tower.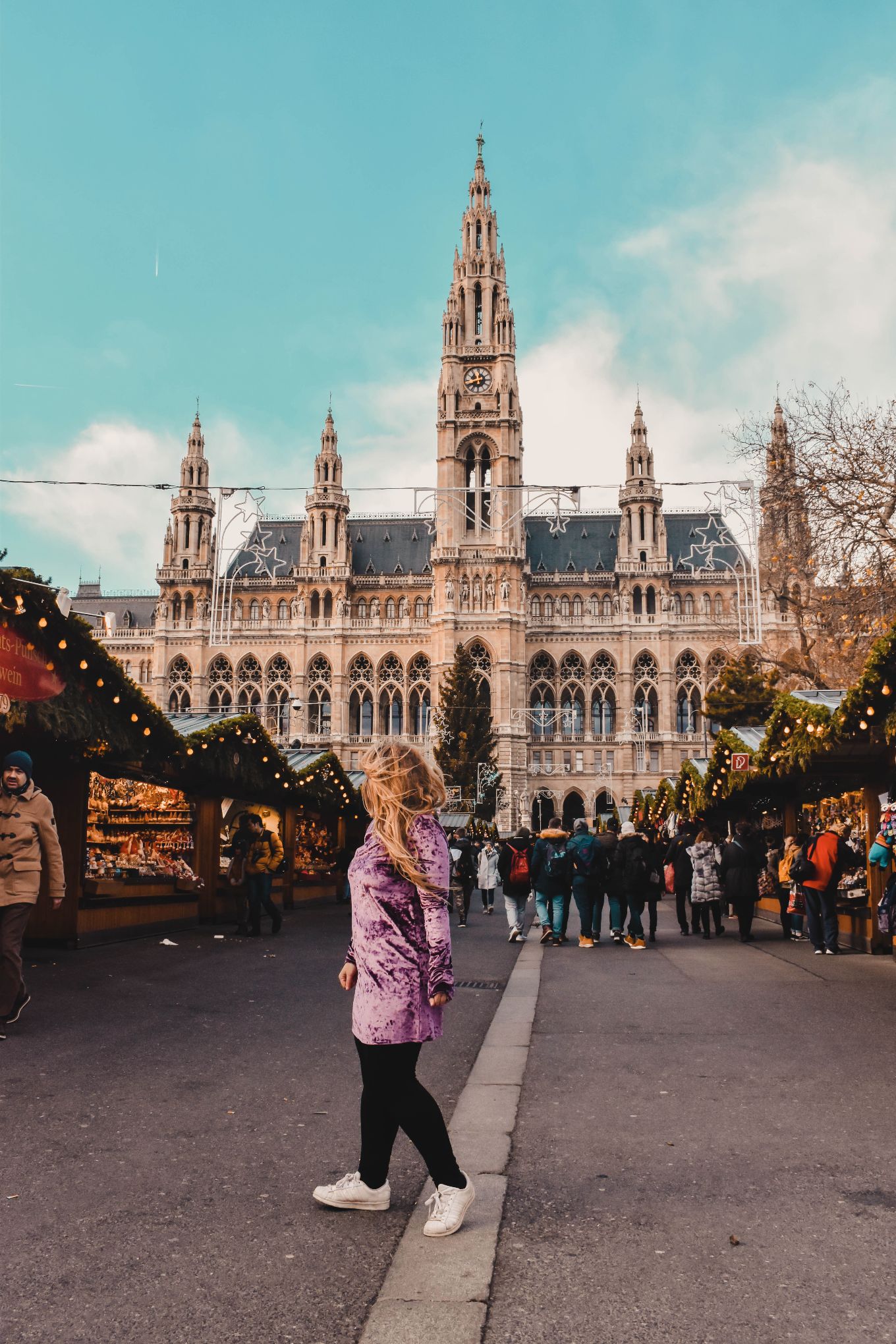 10. Prater Park
If you need a break from history and architecture then come to Vienna's playground: Prater. Walking through Danube Park you'll see the two large Ferris wheels of Prater. This huge park combines modern roller coasters with old-fashioned rides. The Giant Wheel is a landmark in Vienna and dates back to 1896. I recommend taking a ride because you'll also get a glimpse of the park's history.
Where to stay in Vienna
I get so many questions about budgeting and saving money, especially for places like Vienna. So, is Vienna expensive? As the capital city of one of the more expensive countries in Europe, many find it too steep. But luckily, you can easily get around that. First, stay at a place that won't break the bank but is conveniently located. You can't go wrong with Wombat's Hostel.
I stayed in Wombat's in London and was so impressed, I knew the Vienna hostel would offer all of the same amenities. It's truly hostel prices with a hotel like feel, with the added benefit of meeting fellow travelers. Vienna offers two convenient locations, at the Naschmark and the Lounge next to Westbahnhof. Naschmark is right within walking distance to the heart of the city and top attractions of Vienna. The Westbahnhof location offers you close access to public transportation.
One of my favorite aspects (besides the pub quiz) was the filling breakfast. Yogurt, honey, coffee, tea, orange juice, breads, meats, cheeses, and a variety of breads meant I was full and ready to get my travel day started. I'm also shocked by the overall cleanliness (as this is a top priority for any hostel.) Again, it felt like a hotel here.  But what made it so fun was the awesome social atmosphere where I could meet travelers from all over the world.
Vienna is a wonderful place to take a leisurely vacation or exciting trip. Of course, the top 10 things to do in Vienna is just skimming the surface, but I guarantee you that you'll enjoy your time. Whether you check off this top ten list or not. It was tough to narrow down my list but I'm hoping this will give you a good overview of Vienna!
Read more:
Ultimate Guide to Christmas Markets in Europe (Vienna truly has one of the best!!)
22 Photos That Will Make You Book a Trip to Austria
How to Plan a Stress Free Trip to Europe
This post was brought to you as a result of the #wombatsTraveller blog trip, created and managed by iambassador in partnership with wombat's CITY HOSTELS.
Helene in Between maintains full editorial control of the content published on this site.