Today is the day! I've been so excited about this. Today you can link up with Sarah and I for your first. Link up your blog, or use the hashtag: #firstsTOTALSOCIAL and show us your first- whatever that may be- on instagram, pinterest, facebook, twitter, you name it!
Grab the button and link up widget at the bottom of this post.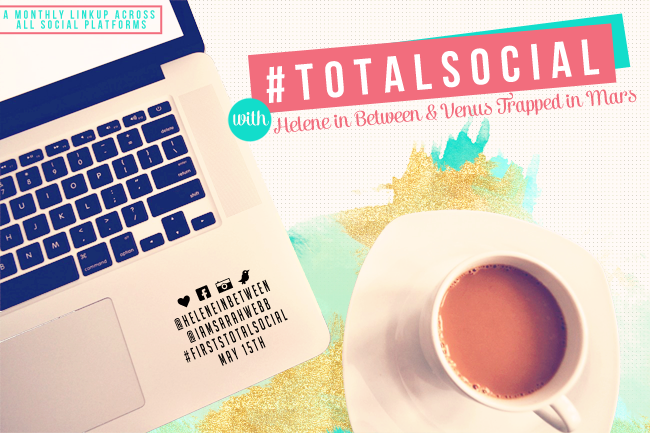 I decided to share with you my first blog post. Well technically, this wasn't my first post ever (those are just plain terrible) but one that started when I changed over to a new blog. It's interesting to see how things have changed since I first started almost 2 years ago. I like this post because it illustrates why I wanted to make a change and what I wanted my blog to represent. So here we go….
Those that follow me know me as Do Dallas Cheap. You see, when I started the blog a year ago I thought that was what it should be. A blog about deals and cheap things to do in Dallas.


I took a break from blogging for 6 months and when I started to blog again I decided to post more about my life with a splash of deals. I knew this was truly my niche, my happy place if you will.


I started to really connect with the blog world. I have found friends from all over the country that I love to follow and am honored when I am followed back. I wanted my blog name to represent the real feel of what I post, even if it's hard to adjust. My blog is not really just centered around Dallas or deals (the main themes from my old blog name). So here I am as: Helene in Between.


I have been contemplating and bothered each night if I should change it or not. But I decided, yes I should. Helene in Between is a perfect fit: 25, married, no kids, trying to find out my path. What do I really want to do with my life? Where do I want to be/live/work in 5 or 15 years. I'm in between.


I look forward to blogging every single day. I hope that you will continue to follow along. The only thing that I'm changin' is the name. Thanks for your support.



*** I will be leaving up Do Dallas Cheap as I transition, All links from Do Dallas Cheap will still come to HeleneinBetween.com so it will always be easy to find me!***
This post was important for me since I was leaving behind a blog and starting a new one. This image of me, I think I just started using
PicMonkey
and I was playing around with the features, not really sure what was going on in my head. Do you remember your first posts? Were they as tragic as mine?!
And for fun, here's Michael and I in highschool on our first "official" date as boyfriend and girlfriend.
We are definitely at my parents house and my collar is definitely popped. Help.
Now, it's your turn! Link up your firsts! #FirstsTotalSocial
document.write(");