Texas is known for it's brutally hot summers. If you live here, you either deal with it or move away. Sure, we all complain about the temperature ("It's been over 100 degrees for 10+ days!") but in reality, we wouldn't have it any other way. At least I wouldn't.
It's March and I'm still dressing in my over sized sweatshirts and leggings every day. I'm just plain tired of it. Spring is great, but I'm just ready for some heat. Swimsuit, tank top, flip flop, sundress weather.
If you can't wait for Summer either link up below.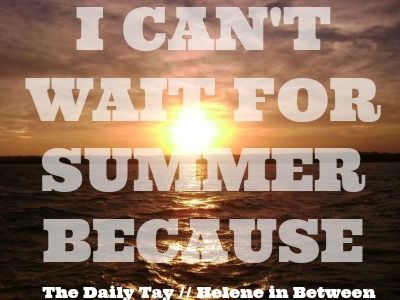 I Can't Wait For Summer Because…
I want to plant myself outside and drink a rum and diet coke while painting my nails.
The nights are warmer and I can sit outside for hours on end.
Jorts are my favorite article of clothing ever invented.
Neon is my favorite color.
My hair gets naturally blonder and I don't have to worry about going to the salon.
My skin looks like it's never seen the light. (Aka I'm tired of looking like a ghost). Also, tan fat does look better than pale fat.
I just feel more carefree.
I can wear white and no one can tell me it's not in season.
Two words: Snow. Cones.
Wait, two more words: Music. Festivals. There we go.
I will hang out anywhere there's water: beach, lake, pool and just float.
My trip to
Ibiza
last year.
It' more acceptable to drink during the day. I'll take 2 pina coladas please.
A sundress can be worn on almost any occasion.
Pop music just sounds better.
I can decorate my house so it doesn't look like I live in a dungeon.
Since Taylor and I both are dreaming of Summer we want to give away a $50 gift card to Pottery Barn! Just in time for Summer. It's super simple, just follow us on instagram.
document.write(");