I am so excited to announce that Sarah from Venus Trapped in Mars (aka the best in the West… and East) and I are hosting a one time link up next week!! The link up will be "What Inspires Your Blog." We have been seeing a lot of bloggers and posts lately that have inspired us or helped us figure out what to write about. Especially during the Summer, it's sometimes hard to muster the strength to post. So we want to hear from you: what inspires you?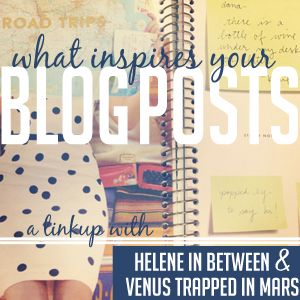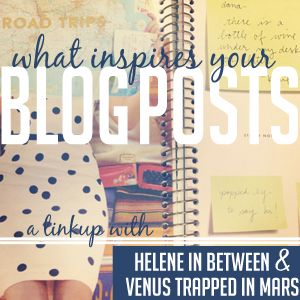 It can be ANYTHING!
I mean anything:
Other Bloggers
A Book
A Person
A Pinterest Board or Pin
A Magazine
Places You Love to Visit
Here are the details:
And one more thing… I am going to Europe in 8 days (Don't worry, I'm freaking out.) I have some AMAZING guest posts lined up for you. When I say amazing, I mean I can't believe they said yes. I'm just gonna name drop a little just to get you excited. One lives in yellow and one is funny on the daily.
Now if that doesn't wet your whistle… then how about YOU?!
I am asking one of y'all to guest post! All you have to do is leave a comment below. I will randomly select one person to guest post. But here's the catch: I need the post by next Monday. Yep. That's super fast, I know. So if you don't want to I understand. But if you do I will love you forever!
Again, just leave a comment saying yes, you'd like to guest post. Or something of that nature. Or get weird with it. Or if you just want to leave a comment because you know how I feel about comments that's fine too.
Thanks for all being such great blog people. Is that a thing? Can it be a thing?