I don't know about you, but I have a sense of excited restlessness as travel starts opening up more and more.
And because we've had this long break between travel, I'm personally reminding you, because I just did… to check your passport. Because once, I was almost stranded in a German airport in a black mini dress that I wore to a Paris club the night before.
But let me explain. So, let's travel back in time, instead of on an actual flight. All the way back to the summer of 2012 on my first "adult" European adventure. Where I lost almost everything, including sleep, sanity, and entrance back to the USA.
Sometimes I feel like a seasoned veteran when I travel. I arrive with my little red backpack, meander towards security, and get on the plane like I get on a bus, with a routine casualness.
All of that came after years and years of flying almost weekly when we lived in Europe.
But Summer 2012 was a very, very different story. This was Michael, myself and our friend Josh's first real trip out of of the USA on our own – no parents, no study abroad, we were on our own. For months, in fact in February, we started planning for this trip. And it was going to be EPIC.
First we scored tickets to one of the biggest music festivals on earth that sells out in mere minutes: Tomorrowland in the town of Boom, Belgium (yes, that really is the name of the town. How apropos).
We got the tickets by getting up at 4am and waiting outside at a McDonald's near a tiny town called Bonham, Texas because we were all there for our friend's lakehouse party. The wi-fi there was spotty so we hauled our butts to the McDonald's and I sat in the backseat, my laptop open when the sale went live at 5am. Somehow, we got through. It was all luck.
After getting the tickets, and shelling out a hefty €250 each for the 3-day festival, we planned where else to go. The price was high, but my dreams of seeing Avicii, David Guetta, and Steve Aoki live were too great to care. After the festival, we decided we'd visit some places we'd never been to before: Amsterdam and Paris.
It was going to be a 10 day adventure of a lifetime. 3 days in Belgium, 3 days in Amsterdam, 4 days in Paris at the end of July.
I made a bright countdown calendar on my phone that I peeked at every day to see the dates getting closer and closer. I actually posted to Instagram with a screen shot of a text message about how excited I was. This was a BIG deal.
For someone that now travels more than half the time, having lived in Europe, and often going to far off places, this sometimes feels like a distant memory. But this trip, was the most exciting thing to happen maybe ever in my life. I can still feel those butterflies in my stomach with anticipation. If I could tell that girl that she'd get to travel to 50+ countries in 5 years, she would have never believed me.
We planned to stay in hostels throughout our time but we couldn't find any open hostels in Belgium and wanted to treat ourselves in Paris. The Amsterdam hostel was booked. Josh, at the time, was living in a hotel because of his job and had tons of hotel points. So he booked the Holiday Inn Express in Mechelen, a town near the festival, and a fancy Hotel Intercontinental in Paris. Since we were already scraping by – we said yes.
The previous April, 2011, Michael and I got married, and that February, 2012, Michael and I purchased a house. We had limited funds so we took him up on on the offer of a free hotel stay.
Oh, there was one caveat. We could only afford 3 nights in Paris. Plus, the flight was so early the next morning back to Dallas, we decided that we'd just stay up that night and head to the airport early that morning.
How very, very stupid we were.
Finally, July 25th comes. It's time for us to head to DFW airport. I have carefully and meticulously printed out everything for the trip: tickets, directions (remember, no smart phones – yes, we actually existed without them!), hotel and museum receipts, emergency contacts, next of kin, really everything short of birth records. I was prepared. Or so I thought.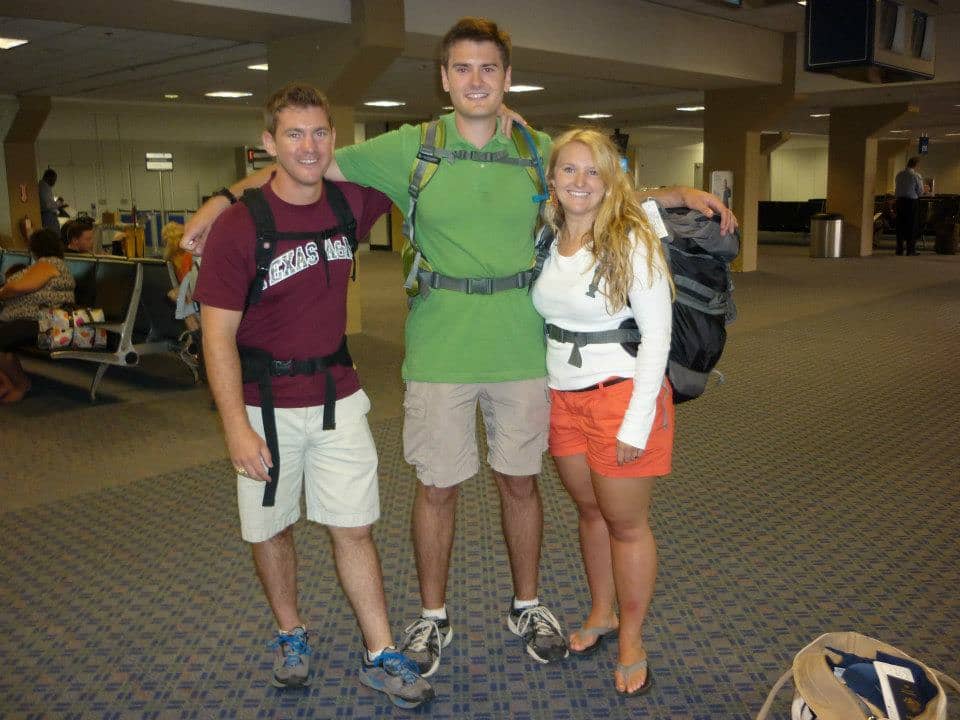 Fun fact… I still own this backpack and we now call it "the dog backpack" and use it for dog stuff. In Europe we used it for laundry. I got it at Walmart for $30!
We get to the airport super early (which is not our now normal of sprinting through the terminals) and my mom takes a photo of us all geared up, ready to go.
I'm nervous, my stomach churning with anticipation for our journey ahead. As we walked, I was behind the boys, reciting the flight plan in my head: Dallas to Newark. Newark to Geneva, Switzerland. Geneva to Brussels, Belgium. Then we'd take a train from Brussels to Antwerp. Then a taxi to Mechelen. Perfect.
We head up to the counter for United, we weren't checking bags, but wanted to make sure everything was alright.
It wasn't.
Despite my careful planning, checking, rechecking and making sure I had everything all set, I missed one small detail: my name.
Michael and I got married the previous April and I had changed my names and all my documents, except one… MY PASSPORT.
The name on my Passport said "HELENE OLD MAIDEN NAME". But all the tickets said my new name, "HELENE NEW MARRIED NAME." Uh Oh.
"Ma'm," started the lady at the counter, truly, trying to be as sweet as possible, "This just isn't going to fly." Literally.
I looked at my watch. I didn't have time to go back to get our marriage certificate or proof of my name change which would have worked for the flight. What could I do? I stood looking at her, open mouthed, willing for the solution to present itself out of thin air. "Let me call the manager," she suggested, helpfully.
I imagined a tall strapping man walking up to me, taking a look at my documents, scribbling something in black ink and taking out a large stamp and marking everything, "OKAY."
But no, a small spit of a man came out, already shaking his head. With worry and fear welling inside of me, I started sifting through my documents. The manager just shook his head and walked away.
"Ah," said the helpful woman, "There is one thing you can do. But it's risky."
Stay tuned… for part 2. Will I get on the plane? Go to the music festival?? Amsterdam? PARIS? (Or will I have to ride a flying car to get to Hogwarts?! Sorry… might have watched Harry Potter and the Chamber of Secrets last night).
You might be wondering: why tell this old story, right now? I mentioned that travel is reopening but it's more than that. We can think we are the most prepared. We've printed out all the documents, dotted our i's and crossed t's. But sometimes one thing can make our carefully concocted plans crumble.

That's the strange part of life. Preparation is important. But so is knowing how to handle what life throws at you and be willing and ready to take on crisis. Some are big, some are small.

But things are figureoutable. We are strong, resilient women (and like the 5 guys that are subscribed to this newsletter, hi!). We can do a lot. But we can't do it all. Sometimes we need guidance, support, or someone to give us another option. And that's okay.

Storytelling is the best tool in our arsenal. It's what connects us. It's what gets us engagement and followers. Every year I do a free 7-day Instagram story challenge to get your story telling ideas flowing, help your grow your views, and engagement. You can find out the details and sign up here.

Now, go check the name and expiration date on your passport. I know I just did.

It's All Good,

Helene

@heleneinbetween (it's where I tell loads of stories)