They say there's no place like home. I say there's no place like Tomorrowland. Tomorrowland is one of the best music festivals in the world. It combines awesome music, incredible people from around the world, and exquisite details that make the festival just so worth it. I've been to the festival four times now, so I have a good understanding of what you need to know. Whether this is your first time to the festival or 10th, this ultimate Tomorrowland guide will help you have the best experience. I'll never forget the rush of excitement and pure joy at getting to see some of my favorite artists, the crazy pyrotechnics, and the sense of happiness from everyone around me.
I'm going to go through and try and answer any and all Tomorrowland frequently asked questions and so much more!
My first Tomorrowland was back in 2012. I had been to other festivals before, but I was not prepared for how incredible Tomorrowland would be. Now, I'm spoiled. Every time I go to another festival I always think: it's good, but it's no Tomorrowland.
But in order to have the best time at the end you need to have a plan of action. I'm breaking down everything you need to know for Tomorrowland 2018. So let's get to it!
READ MY GUIDES BELOW:
How to Get to Tomorrowland 2019 ///  Cost of Tomorrowland   /// Tomorrowland Packing List
Pre-Festival Tomorrowland Guide
Before you get to the festival you need to actually get tickets. It's one of the toughest parts of actually getting the the festival. Millions of people trying to get roughly 200,000 tickets. Tomorrowland sells out in mere MINUTES! So be prepared ahead of time. Each and every year I break down how to get Tomorrowland tickets. The essentials are that you need to pre-register on the Tomorrowland website. This basically means putting in your contact information so you're ready to go on the day of ticket sales.
Types of Tomorrowland Tickets
I suggest having an exact idea of what kind of tickets you want. Do you want the full package with flight, hotel, and tickets to all three days of the festival? If so you're looking at a global journey ticket. If you want to camp you're looking for a Dreamville pass. If you just want to go individual days then there are a few different options for tickets depending on the day. Saturday sells out the fastest.
How much are Tomorrowland tickets?
The Tomorrowland ticket price depends on the type of ticket you buy.  A day pass it's €88 or $110 (Saturday sells out the fastest, usually). A Full Madness Tomorrowland pass is for all three days and is €225 or $272 for Worldwide Presale or for Worldwide sale it's a bit more expensive at €281 or $340.  Remember, you can only buy tickets for up to four people. Find out my full guide to the cost of Tomorrowland– everything from plane tickets, drinks, food, and more!
How to get Tomorrowland tickets?
Getting Tomorrowland tickets is not easy, so be prepared ahead of time. Tomorrowland sells out in mere seconds! You might wait in the queue for hours online but it's first come, first serve. If you are one of the first 10 from your country to pre-register you immediately get access to tickets. However, otherwise you will have to wait for the Worldwide pre-sale or the Worldwide sale. There are multiple times that tickets go on sale. Here are the different options:
1. The Global Journey and Discover Europe-sale (Travel packages)
2. The top 10 sale
3. Belgian-only sale (only for those that live in Belgium- I think this is a great idea that they give a nod to their home country).
4. WorldWide pre-sale (Early bird)
5. Friendship garden sale
6. Worldwide sale
7. Waiting List/Exchange Desk
8. Travel partners
Where is Tomorrowland?
Tomorrowland takes place in Boom, Belgium on the large, beautiful ground of De Schorre. This is the PERFECT site for a festival because of the large open air space, greenery, and the bowl like area that makes for the best main stage. You would think with 100,000+ people it would be hard to see the main stage. But because of this natural auditorium you have a good view from almost every where.
How long is the Tomorrowland festival?
Tomorrowland takes place the last two weekend in July and goes from Friday through Sunday. There is a pre-festival concert and get together on Thursday for those that are camping in Dreamville.
Tomorrowland Festival Dates

Where: Boom, Belgium at De Schorre
Weekend 1: 7/21 through 7/23, Weekend 2: 7/28 through 7/30
Dreamville – Camping opens a day earlier than the festival and ends a day after, so the Thursday to Monday of the event.

Weekend 1: 7/20 through 24, Weekend 2: 7/27 through 31
Where to stay for Tomorrowland
If you decide not to camp there are tons of options for where to stay. Places like Antwerp, Brussels,  Gent, and Mechelen are great options. Antwerp is about 8 miles from Tomorrowland, Mechelen about 7, Brussels around 17 miles and Gent is about 25 miles from the festival. Just make sure you book your hotel IN ADVANCE. Just like tickets, hotels book out quickly.
What to expect at Tomorrowland
Before you get to the festival there are some things you should know. For example, Tomorrowland is cashless. Meaning, you'll need to put money on your Tomorrowland bracelet to purchase items- called Pearls. You can add money to your bracelet at the festival via a credit card or cash. The conversion rate is 20€ = 13 Pearls.
Remember that if you are traveling from another country that data rates may apply for your phone. I also HIGHLY suggest to bring a back up phone charger. I never travel without my anker charger because it's portable and lightweight.
What to bring to the festival?
There are a few things you must bring to the festival. Those are: your festival bracelet (YOU MUST HAVE THIS. If you are changing a paper ticket for your bracelet bring a proper form of I.D. (like a passport). Make sure to load your bracelet with money (aka Pearls.) I do suggest bringing some cash for things like cabs or the bus home.
I also suggest bringing a good pair of walking/tennis shoes, sunglasses, a rain jacket (it rains every year), ear plugs (I'll never understand why you would gladly damage your hearing!!), sunscreen, and backup copies of your tickets, passport, or any other important information.
I also recommend bringing something that represents your home country. Remember, Tomorrowland has people coming from all over the world! So show your pride. It's also a great conversation starter.
Girls: fanny packs and crossbody bags are your friend! Check out my full packing list here.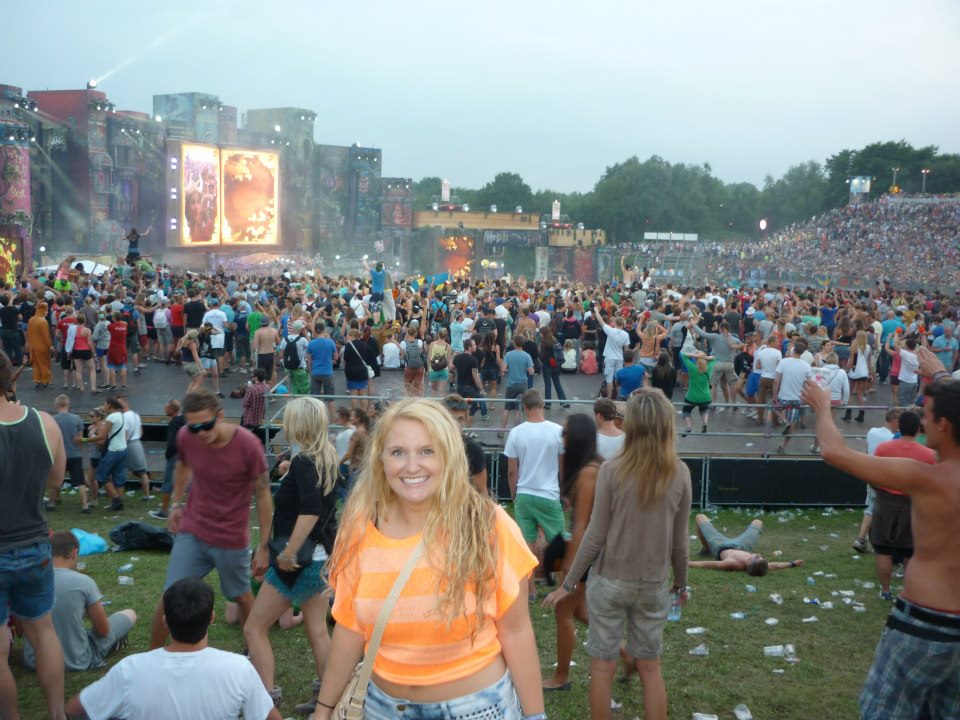 Do not bring water bottles, or outside food or drink. You can only bring that in if you're staying in Dreamville.
Can you go to Tomorrowland alone?
Of course! Gong alone to the festival is totally acceptable. People are so friendly and kind that they will welcome you with open arms.
Getting to the Festival
There are many ways to get to the festival and this is probably the top question I get. Rest assured, you will get there! My favorite way is to take the shuttle (I stay at a hotel outside of the festival). They are well marked and easy to find. The shuttle (aka bus) is only a few Euros so make sure you have it exactly so you're ready to go.
Other options for transportation are cabs, or you can take your own car.
At the Festival
The festival grounds are huge! There are so many stages (usually at least 16) so it will take some time to get from one place to the next. If there are some artists you want to see and they overlap or are back to back, make sure you have a plan of action to get there.
Walking to and from Dreamville also takes about 20 minutes. So be prepared to walk, a lot!
Tips for the festival
Do not mess with the art installations at Tomorrowland. That will get you on the fast track to getting kicked out.
Make sure you check out more than just the stages. There is a library, post office, restaurants, Love Chapel, and fun side attractions that really make this festival one of a kind. I see pictures of other festivals like Ultra and Coachella but I always laugh because they aren't even 1/18th the amount of detail and sheer amazement that Tomorrowland brings.
Tomorrowland line up
The artists at Tomorrowland are some of the best in the world, hands down. David Guetta, Oliver Heldens, Tiesto, Hardwell, Armin Van Buuren Sam Feldt, Yves V, Fat Boy Slim, Alexxo, Dimitri Vegas and Like Mike, Avwell, Diplo, Ingrosso, Afrojack, Martin Garrix… the list goes on and on.

Getting Home from Tomorrowland
Getting home each night from the festival can be challenging, so be prepared. I'm never seen buses so slammed with people! We opt for cabs. But sometimes these can be rare or hard to find. If you really hate waiting after a long day leave the festival early. This is always a tough choice for me since the fireworks are just so incredible. But really, the best option is to just be patient and wait for the buses or take a cab. There are clear signs that will tell you where to go.
Going home after the festival is over is hard. You just had the most epic time of your life!
Why go to Tomorrowland?
When I saw this video in 2010 I was convinced – I had to go. I remember we woke up at 3 am and sat in a McDonald's parking lot in Texas trying to get good enough internet signal with my husband and our friend, trying to get tickets. If these videos don't convince you, I don't know what will:
[youtube https://www.youtube.com/watch?v=M7CdTAiaLes]
And even in just a few short years they continue to make it one of the craziest experiences ever. The stages alone are one of the best displays to see at a festival :
[youtube https://www.youtube.com/watch?v=6dVFy4d61gU]
My favorite Tomorrowland experience was in 2012. It had just stopped raining and one of my favorite artists, Avicii (rest in peace!!), was about to perform. I love all of his hits but my favorite song of his is not as poplar, "Oh Dear Boy". The sky suddenly cleared and about midway through his set he played the song. Ah, what an incredible experience.
 [youtube https://www.youtube.com/watch?v=el7CwXk17Q8?ecver=1]
Imagine: partying, dancing, and singing with hundreds of thousands of people from across the world there to celebrate music and love. It's truly an experience I'll never forget in my whole life.
Have you been to Tomorrowland?
Tomorrowland fun facts:
The event has been running for 14 years now and David Guetta performed year one and every year until now.
The festival workers are almost all volunteers. They work at the festival in exchange for also getting a ticket.
Tomorrowland 2013 sold out in approximately ONE second!
Dreamville camping used to be right in front of the main stage!
People from over 200 countries attend Tomorrowland – that's more than participate in the Olympics!!
Tomorrowland has their own newspaper. Don't forget to get your copy and read the "news" of the day. You'll see people handing them out all over the festival site.
I can't quite put into words just how magical Tomorrowland truly is. It's one of those experience everyone must have. I know Tomorrowland 2018 will not disappoint. I hope this guide has provided everything you need to know about the best festival in the world!
Be notified as soon as tickets go on sale!
Be the FIRST to know. I'll be sending you an email!