Welcome to Germany's Black Forest! This is where stories like Hansel & Gretel, Snow White, Sleeping Beauty and other Brothers Grimm fairytales come to life. Visit half-timbered houses that look like gingerbread, eat Black Forest cake, and see a true winter wonderland come to life. This is truly a "fairytale" forest and is quintessential Germany charm.
The name "Black Forest" or in German "Schwarzwald" comes from the dark color from the tightly packed pine trees. The name dates back to the Roman Empire when they came for the mineral waters and created bath houses in Baden-Baden. In spring you'll find beautiful, lush green hills, and in winter you'll find a snow covered landscape that rivals Lapland.

Fog regularly spills over the forest like a blanket, making it the perfect setting for stories and myths. The Brothers Grimm's stories were published in 1812 and are a lot more dark than the fairytales we know today.
We drove from Heidelberg through streets lightly covered in snow on our way up to hike the forest. As we edged closer we could see the landscape change: it was full on winter wonderland mode. Towering high trees leaned over the ground with the weight of the snow, as if to whisper a secret.
We pulled on our hiking boots, gaiters, and grabbed our poles to head into the thick trees and dense snow. There was a peaceful silence broken only by the heavy breathing of our dogs as they zoomed around the sparkling white landscape.
It truly felt like a dream.
We often visited the Black Forest, for a spring time hike finishing with cake outside in the garden, bathing in the spas in the fall, drinking at wineries in the summer, or admiring a snow globe come to life in winter.
The Brothers Grimm aren't the only famous people to write about the Black Forest. Mark Twain came here in the 1800s and wrote about it in his book, A Tramp Abroad. He said, "Here … you lose track of time in ten minutes and the world in twenty."
I have to agree. Hiking here at sunset or taking a scenic drives transports you to a whole new world.
Where is the Black Forest?
The Black Forest is a mountain range in Baden-Württemberg in southwestern Germany. It stretches about 100 miles (160 kilometers) with 60% of the area covered in forests and the rest are adorable villages that look just like gingerbread houses. Nearby towns like Baden-Baden and Freiburg are on the western edge and the perfect place to grab a bite to eat or stay over night.
How to Get to the Black Forest
I suggest taking a car to head to the forest. However, you can take a train to Baden-Baen, Freiburg, or Offenburg. But if you want to go hiking or see some of the smaller towns, a car is ideal. The scenic drives are worth it alone.
What to do in the Black Forest
Outdoor activities are plentiful here. You can go hiking, skiing, and sledding. I suggest taking a tour of some of the most idyllic villages, heading to the spa in Baden-Baden, and having your fill of some of the delicacies of the region.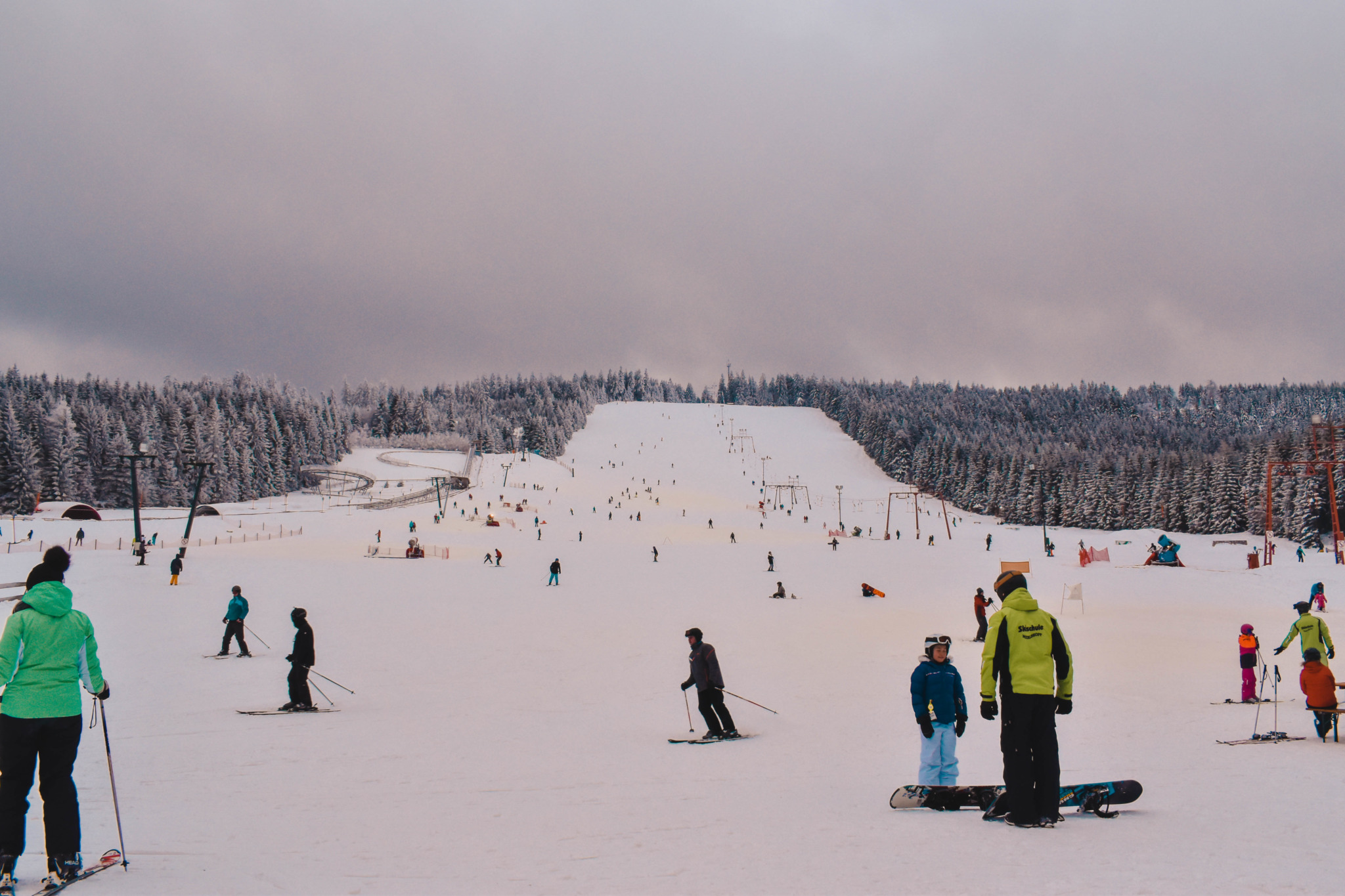 Black Forest cake is simply delicious and gets its name from the cherry kirschwasser that's local to the region and added to the cake.
One of my favorite things to do is take a hike and grab some schnapps while admiring the views.
Places to go in the Black Forest
Baden-Baden – Here you'll find a spa town that's fashionable, yet laid back. This is a great place to stay overnight and a wonderful place to roam around and shop.
Hidden in the Black Forest near Baden-Baden is the Hohenbaden Old Castle ruins, dating back to the 12th century. In the 16th century it was destroyed by fire but it's remains are still worth it for a walk through.
Sasbachwalden – This is one of my favorite little towns and the best place for Black Forest cake. We come here often for hikes and to enjoy the scenery of the town. I also recommend getting some schnapps while you're here, it's the best thing to do after a long day. You can even go on a self-guided hike through the schnapps farms of the area. As you go, make sure to bring cash, often there are help-yourself stalls where you can grab schnapps and deposit money in the coin slot. Find different schnapps hikes here.
Freiburg – This is a university town and full of adorable cobbled streets and beautiful gabled homes. This is actually Germany's warmest since it gets the most sunshine! Here you can take the Schlossbergbahn cable car to enjoy views of the city.
Triberg – This is where cuckoo clocks originate and you can find a huge selection of clocks in various shapes and sizes. When you're here don't forget to go to Triberger Waterfall, the highest in Germany.
Badische Weinstrasse – If you think this town has something to do with wine, you'd be right. "Wein" means wine in German. Through the wine route you can sample wine and take a look at the vineyard.
Lichtenstein Castle And Hohenzollern Castle – There are two castles in the black forest that are must sees. First up, Lichtenstein Castle was constructed in the 1840s and inspired by the novel "Lichtenstein" which takes place in a castle. Hohenzollern is a pretty hilltop castle offering sweeping views.
Pictured below is the lovely Lichtenstein castle.
Below is the incredible Hohenzollern Castle:
See the best castles in Germany here.
Traditions in the Black Forest
The Black Forest is known for its cuckoo clocks, bollenhut hat, and for Black Forest cakes. The "Bollenhut" is a hat with bright red pompons and is part of the "Gutach Tracht". This traditional dress is only worn by women in Gutach, Horberg-Reichenbach and Wolfach-Kirnbach at special occasions.
More to read:
What to Do in Heidelberg, Germany
Best Christmas Markets in Germany