Drinking isn't the only thing to do in Dublin. But I'd still highly recommend grabbing a pint at least once a day. Or if you're like me, it was sometimes breakfast, lunch and dinner. When in Ireland. From world renown Guinness and whiskey to it's University, to centuries of history embedded into the very streets you walk on, you can find an experience you'll enjoy in the capital of Ireland. Here are 10 things you MUST do when you visit Dublin!
Whether you're wanting to learn some history, see some of the coolest pubs in the world, or walk in lush green gardens, Dublin has it all. And it's easy to go from Dublin to almost anywhere in Ireland – especially if you rent a car.
10 Things You Must Do in Dublin Ireland
1. Go to a pub


Dublin is infamous for it's funky and fun nightlife. Of course, everyone will have an opinion on which pub is the best. But I think you can find one that suits your fancy by just walking around. There are more pubs around every corner than you will think humanly possible, but somehow they are all busy. For a fun experience, check out one playing live music like Porterhouse Pub, Temple Bar, or Murphy's. If you want to just relax and have a drink pubs like Stag's Head or Peader O'Donnell's are perfect. Also, speakeasy's are popping up as well. We had fantastic (and a bit overpriced) drinks at Vintage Cocktail Club.
The Temple Bar neighborhood is a bit touristy but totally fun to just walk around and see drunk people stumbling around at any hour of the day. But seriously, it's very clean, friendly, and you'll be sure to find a pub that you like.
2. Trinity College and the Book of Kells
Trinity college has a rich and colorful history. We took a guided tour, only €14 and includes admission to see the library and Book of Kells which is 13 Euro alone, so I highly recommend spending one more euro for the tour, around campus. We learned how little to nothing the college paid for its impressive architecture. My favorite aspect was the "Long Room." Here books are ordered by length and weight. It is arguably one of the coolest and longest rooms in the whole world with some of the oldest books ever.  There are over 200,000 books just here!
The Book of Kells was written around 800 AD on calf skin paper and is one of the most beautiful books, intricately written and illustrated. No photos are allowed but it will leave a lasting impression.
3. Guinness Tour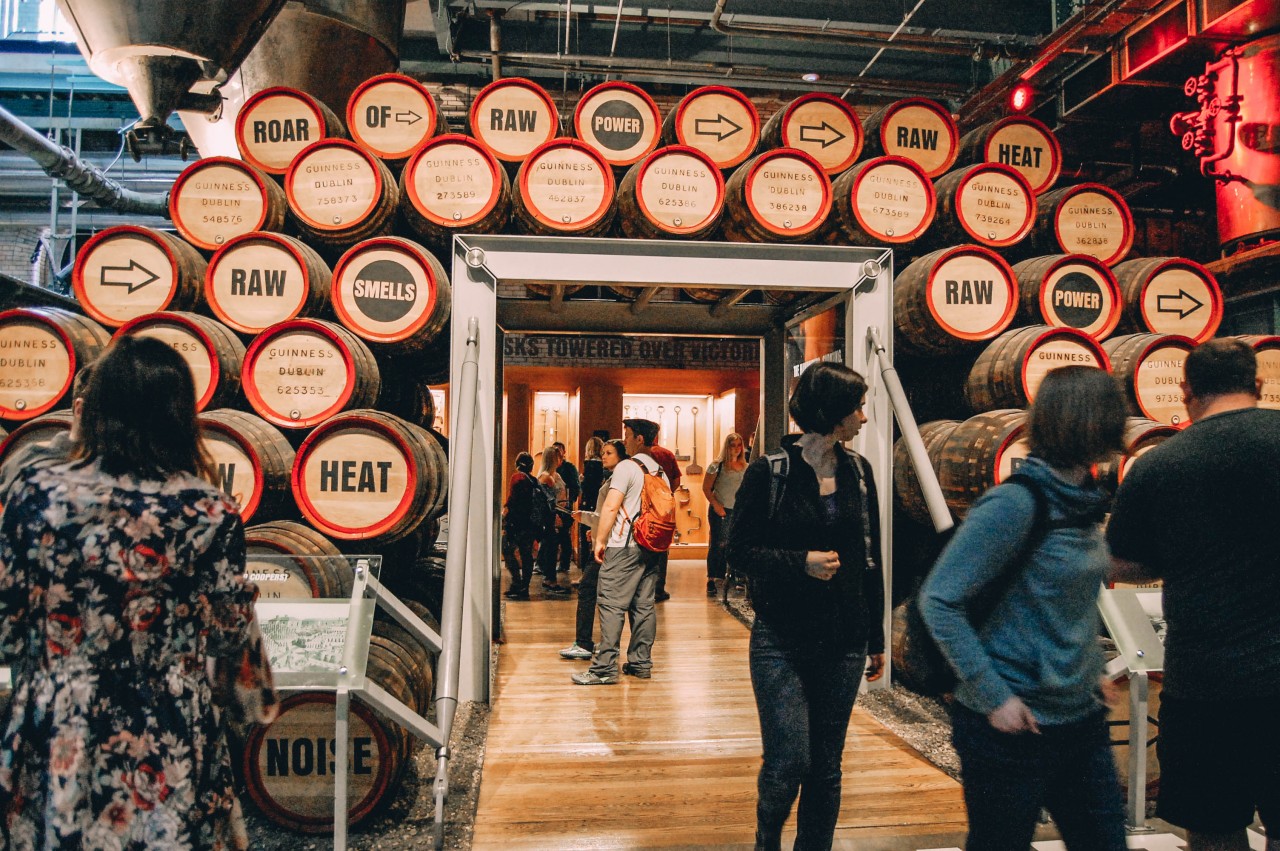 You can't go to Dublin without going to Guinness. It's quintessential Ireland and it's a fun, interactive experience. You'll learn how it's made and how this beer helped make Dublin what it is today. Don't forget to go to the top floor for one of the best views of Dublin! The tour of the storehouse includes a beer and is €14. They are very serious about their beer and it shows.
PRO TIP: Buy tickets beforehand AND online. They are $6 more per person if you buy them onsite!
4. St. Stephen's Green
Tucked away in the heart of the city, is the lush St. Stephen's. This green oasis is the perfect spot to read, people watch, or have a picnic. The park has an old Victorian layout and you can feel like you're basking in the sun just like they did back in the day.
5. Walk around the city
One of the best ways to see Dublin is to just wander around. We went from Stephen's Green down to the pubs, past a museum (we did go inside the Archaeology Museum – worth the visit and it's free). And we landed on the route of the river. There are tons of restaurants and bars so you'll find something you like. Beware: bring your walking shoes for the cobblestone streets and a rain coat because it could rain at ANY moment. You might also find yourself eating some ice cream along the way: Murphy's is very over priced but very delicious.
Watch (use code HELENE15 for 15% off) // Raincoat
6. Celtic Music & Dancing + Traditional Irish Meal
For me, this was the highlight of Dublin. Just as in Madrid, getting to see traditional dance plus sampling the food is so much fun. Traditional River Dance is performed while you FEAST on a three course dinner. We went to Arlington Hotel for the traditional celtic dancing, and we booked the day of- but beware, these can book fast, so I suggest booking a day or so in advance. This is a must do for a real immersion in culture, with people from all around the world watching the dancing. With great explanations of styles of music and cultural history along with exceptional food. For just €33 per person, you'd think the meal would be sub par. I was delightfully wrong. The starter of carrot and coriander soup with a side of brown soda bread was hearty and warm. The traditional Irish stew was seasoned well, but the dessert sampler was truly divine. Everyone was clapping and enjoying the Irish folk music.
7. Take a hike
Get out of the city just a bit, and see some of the world famous Irish countryside. You know how they say it's green? Well, it's even greener. The yellow flowers were growing all around us, plus a view of the sea, it was such a lovely time for a hike. We took the train and hopped over to Bray, a 20-30 minute ride away. You'll exit Bray but then hike Greystones. We hiked to Greystones, then ate at a fun, trendy restaurant for vegan food called the Happy Pear. Then we hopped on the train back to Dublin.
8. Christ Church Cathedral
While St. Patrick's Cathedral is also a lovely cathedral, I think Christ Church Cathedral is one of the finest. The overpowering structure is a traditional look you'll see in Ireland with great, grey stones, a bell tower, and a dungeon. I especially liked the bridge that stands the test of time in this now modern city. Ireland has very deep roots in Catholicism, so you can't miss the grand cathedrals.
9. Kilmainham Gaol (the Jail)
YOU MUST book Kilmainham Gaol 3 days in advance. Something we unfortunately did not know! While everything else in Dublin was very accessible, this is one thing you must book in advance. This former prison is now a museum where you'll learn about the many revolutionaries that were eventually imprisoned and then killed by the British inside. One of the most striking events in Irish history, the building symbolizes many struggles of its people.
10. Go on a walking tour
One of the best ways to see any city is to go for a guided walking tour. Most of them are free and you can really grasp what Dublin is about. I find this is a great way to learn tips and secrets for when you're traveling. Our guide even gave us free vouchers for a pub crawl (worth 12 euro!) .
If you're looking for some easy day trips out of Dublin you can easily take a bus to the Cliffs of Moher. This is one of the coolest scenes you can see, miles of rolling hills lead up to a sharp, vertical cliff that cuts Ireland so dramatically. Scenes from Harry Potter are filmed here and it's easy to see why they choose this location for it's ominous and overpowering depth.
The bus will also take you from the Cliffs to the town of Galway. I'm totally convinced that Galway is an easy stop on the way back to Dublin and that's why it's a chosen location. I found it to be nothing special – despite loads of people telling me to check it out. It's just a large European town and we left quickly. I think it's best to skip it and focus on the countryside and towns further south. Killarney and Kilkenny were my favorites. Best advice is to rent a car to see more of Ireland.
There is tons to see and do in Dublin and Ireland in general. One of my absolute favorite parts about visiting Ireland were the Irish people themselves. They are so friendly and seem to just have a happy outlook on life. Everyone we met gave us great recommendations, was eager to chat, or just wanted to have a laugh. Such an easy going culture is hard to find, but you really can't beat the people in Ireland. So grab a pint and get to know the locals, you won't be pointed in the wrong direction.
Learn to travel and live on your own terms!
Join over 135,000 others who want to gain the knowledge and experience of seeing the world on their own terms. I am a full time travel blogger and want to help you live your dreams, save money, and travel more. Get access to exclusive content, freebies, updates, and more when you sign up.