I don't know about you, but when I'm traveling I have exactly 78 seconds to get ready. I try to get as much sleep as possible so that I can spend the rest of the time exploring. I remember a few years ago when I traveled to Paris and Amsterdam (I was the only girl) we averaged 4.5 hours of sleep a night. We just wanted to see it all! Getting ready cuts into that precious time of shut eye. So I have it down to a science and get ready fast. This includes my hair. I have a few products and hair styles that I stick to when I travel that make getting ready easy and make it look like I tried. Even with less than 8 hours of beauty rest.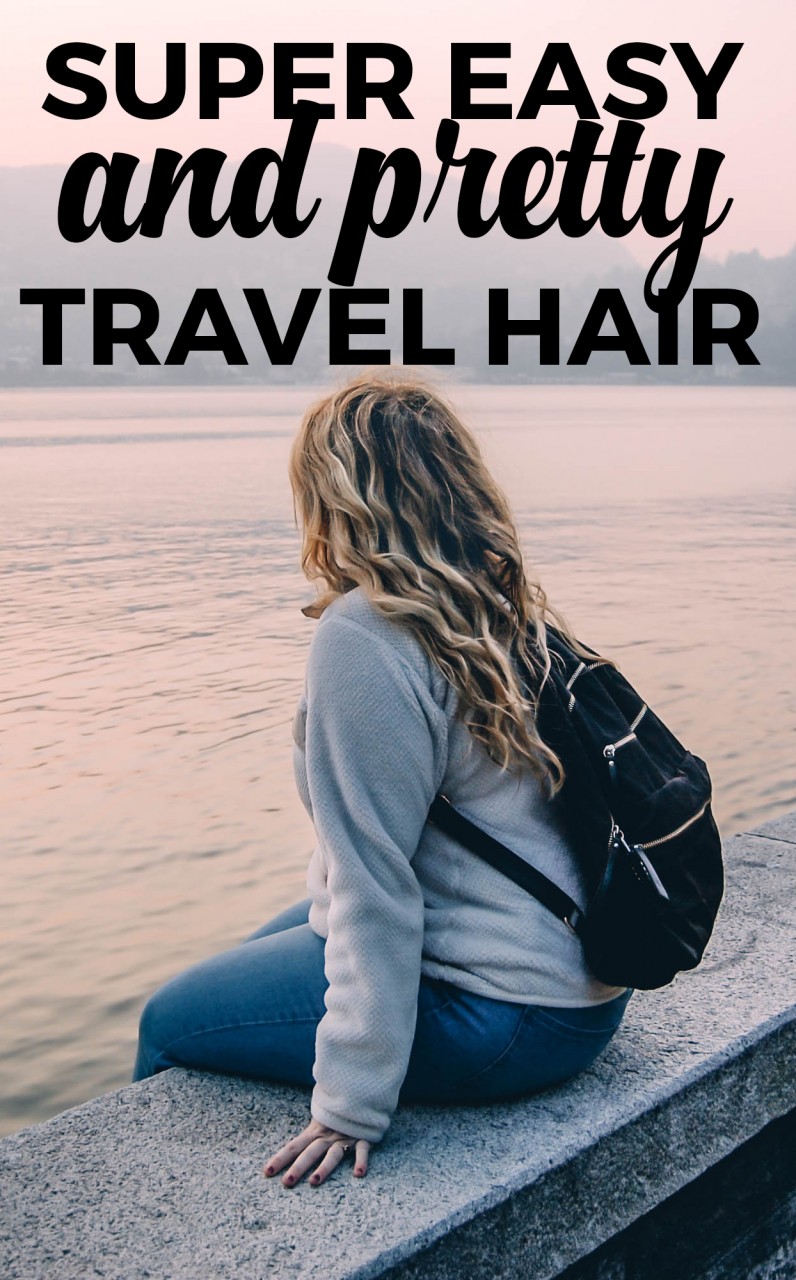 I'm going to show you my favorite ways to make sure your hair looks pretty (and lasts!) plus some easy hairstyles for when you're traveling. These could work any old day, of course, but I especially like this for traveling.
The way I like to do my hair is to make sure it takes as minimal time and also minimal space in my suitcase as possible. I don't bring a single hot tool (or even a blow dryer) because I want to save room. You can see exactly what I pack and what I use to travel right here. I like to use a couple products that are easy and lightweight.
My hair type is wavy. I used to battle this SO MUCH but now I just go with it. I rarely straighten (or curl for that matter) my hair. I like to use products that condition and protect and have used the following products for years. Not weeks or even months. I brought these with me when I moved abroad, so you know it's legit. This post isn't sponsored, I just get a lot of questions about my hair and thought I'd break down exactly what I do.
Hat found here // Surf Spray // Waves Spray // Beach Spray // Keratin Oil
As soon as I hop out of the shower I towel dry my hair. Then I spritz on this keratin oil. I used to use leave in conditioner but felt like it really weighed down my hair (eww) and made it hard to get volume. I tried a few different sprays, but this is the only one that actually does the trick. My hair tends to be pretty dry, so a lightweight spray doesn't work that well for me. This makes my hair feel super healthy and shiny. You can see the whole process live, on my instastory (@heleneinbetween).
I let that sit in my hair for a few minutes (this is usually when I'll do my makeup or get dressed for the day). Then I spray in two of the above sprays, depending on what I bring. If I want more natural waves, I use the Surf Spray followed by the beach spray. If I want my curls a little more defined, I'll use the Redken plus the beach spray. There aren't huge differences between each. I like the Surf spray because it looks like you just left the beach. The Redken one is also really high quality and smells great.
Lastly, I always use the beach spray. This gives my hair great texture (again, without weighing it down). Once I spray, I might blow dry my hair for a couple minutes- if I have a blow dryer. If I don't, I will scrunch my hair in my hands a few times and then let it air dry.
That's it. SO EASY. And my hair will last like this until I wash it again. Which, might be a few days from then…
I've pretty much had the same hairstyle for years, so I can attest to these products being really worth it. Plus, I'm cheap but I like quality, so everything listed is under $30.
My go-to travel hairstyles:
These six hairstyles are my go-to for travel and every day. If I don't have time to shower or it's just not necessary, you can catch me in one of these styles:
Easy waves using the above products. Also, me every day of my life.
Braid – especially when my hair feels like it can't take any product or might need to be washed.
Backpack // Sweater // Leggings (I do not travel without these)
Hat– literally the easiest way to hide a greasy or messy head of hair.
Headband or wrap – accessories make you look like you tried when you 100% did not.
Headband // Jacket // Sunglasses
Ponytail – out of your face and so much easier for activities. Oh, where did I get this bow you ask? Thank you, it was wrapped around my fork and knife at dinner and much like Ariel, (The Little Mermaid) I thought I should put it in my hair immediately.
The Half bun – this is blogger hair, but it really is easy and hides how crazy my hair might really look.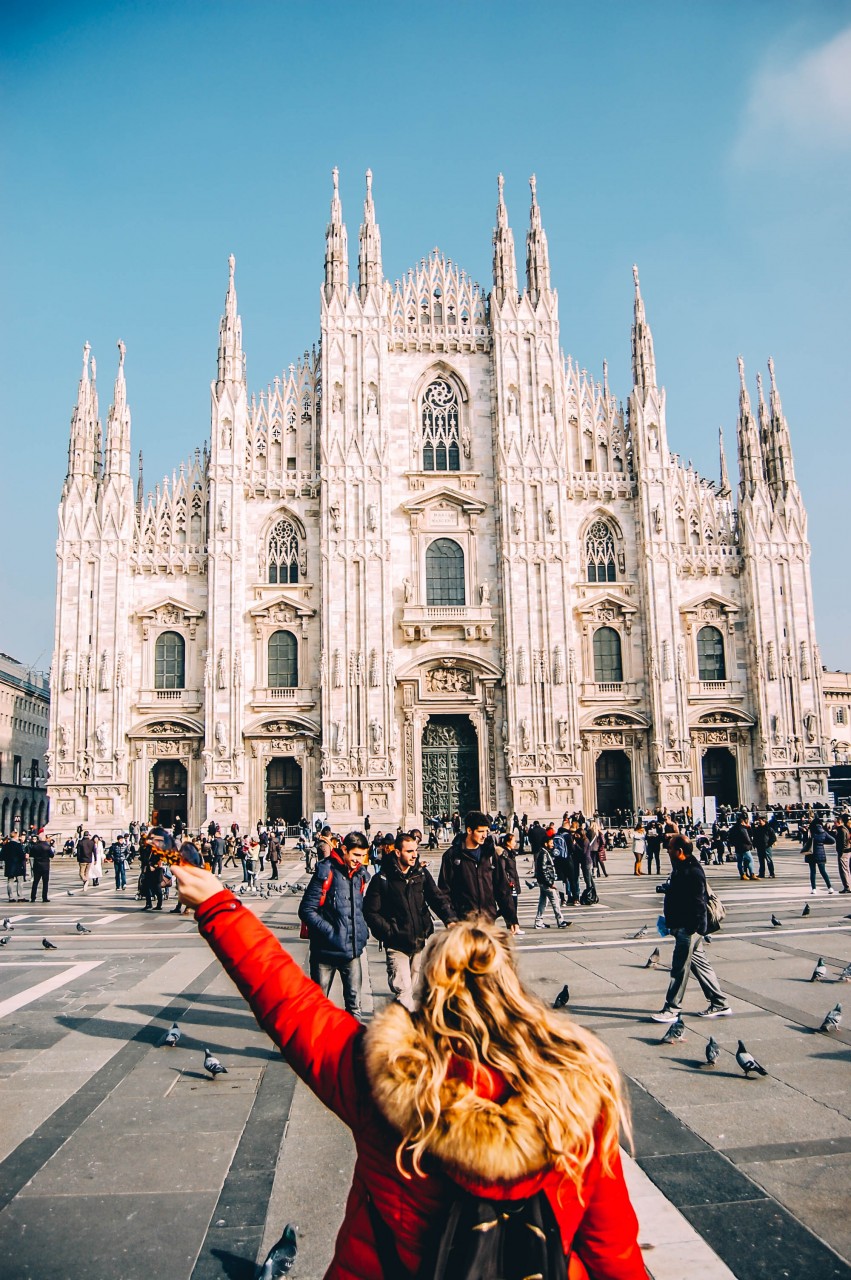 I can't stress enough to you how little I spend getting ready while traveling. Okay, fine, even in my normal day-to-day life. Who wants to spend time on their hair when there's a whole world out there to see?!
What is your go-to travel hair?