It's hard to put into words why tragedies happen.
How do we move past them and what is the right way to react?
All I can do is think about those affected and their families.
Welcome to another segment of Travel Tuesdays!
Rules for the hop: Grab a button and link up, & visit some other blogs and read about their adventures!
Today I am featuring Setarra from The Burghal Gurl. I thought she would be perfect for Travel Tuesday's post since:
1. It's all about New York.
2. I've never been. Not fair.
3. Why not?!
Hey Everyone!
Setarra here and I blog over at
The Burghal Gurl
. Super excited to be here on Helene's blog! My little bloggity is a place where I talk about life, living in NYC, dance, food and all things in between that make me happy. But I'm sure all you
only
saw the "living in NYC" part when reading that previous sentence … Annnnd want to know more about life in the Big Apple? Sooo after living in New York for the past two years, here are a few things I've learned that helped make my transition to NYC much easier:
1)
Download the HopStop App.
I moved up to New York and had no clue on how the navigate the subway system. Granted I'm from DC, which has it's own metro system but … NYC is an entirely different monster. With HopStop, you just enter you current location and the address for where you wanna go and Voila! Subway/Bus/ and Walking directions right at your fingertips! I swear HopStop saved my life a couple times.
2)
Get a Personal Reference.
As much as many of my friends have complained about paying $6 for a slice of pizza when visiting NYC, I could've easily told them that there is a
99 cents Pizza Place
right by Grand Central, tickets for Broadway are generally way cheaper if you buy them last minute instead of ahead of time,
13th Step
has an awesome power hour on Saturdays ($2 shots from 8-9pm? Pre-game heaven!), most of the museums have a recommended entry fee … keyword "recommended" (I've definitely gone to the MET with only $5 and gotten in), AND never, NEVER buy an NYC souvenir in Times Square… It's a rip off. $15 for a t-shirt? Go to Chinatown where everything is cheap and prices are negotiable. Anywho, what I'm trying to say is that computer research can only get you so far when traveling, ask a local or friend (like me) about places to check out in NYC.
3) As fast as you think you are walking, there is ALWAYS someone walking faster. Watch out and make sure sure to look behind you from time to time when walking or risk getting bulldozed by a fellow pedestrian in a rush.
4) Escalator Etiquette. Stand to the right if you want to be still and enjoy the ride. The left side is for people who are walking/running up and down the escalator. Make sure to stand on the right or risk having someone kindly ask you to "Get The Phuck Over." Trust me on this…. Stand to the right.
5) People Stare … Go With It. At first I thought it was rude when people stared at me but then I realized I was starting to stare at people too (which makes me just as rude now? lol). NYC is such a diverse city … Beautiful people, street entertainers, loud personalities, mothers breast feeding on the subway without a privacy blanket, fashionistas, people barfing on every street corner at 3 in the morning, cops on horses (I still don't get why cops ride horses in NYC?) and stinky protesters in Union Square … NYC is probably one of the best cities around to people watch … Trust Me … It NEVER gets boring 😉
And that's that! Hope you guys will stop by the blog and say Hi! And thanks again to Helene for having me!
xo, Setarra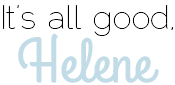 document.write('