When people think of the UAE, they are quick to focus solely on Dubai. But the capital, Abu Dhabi, is right next door and has a wealth of great activities, important cultural distinctions, and incredible architecture.
I've mapped out the 10 best things to do in Abu Dhabi, from shopping to culture and exploring the nation's traditions.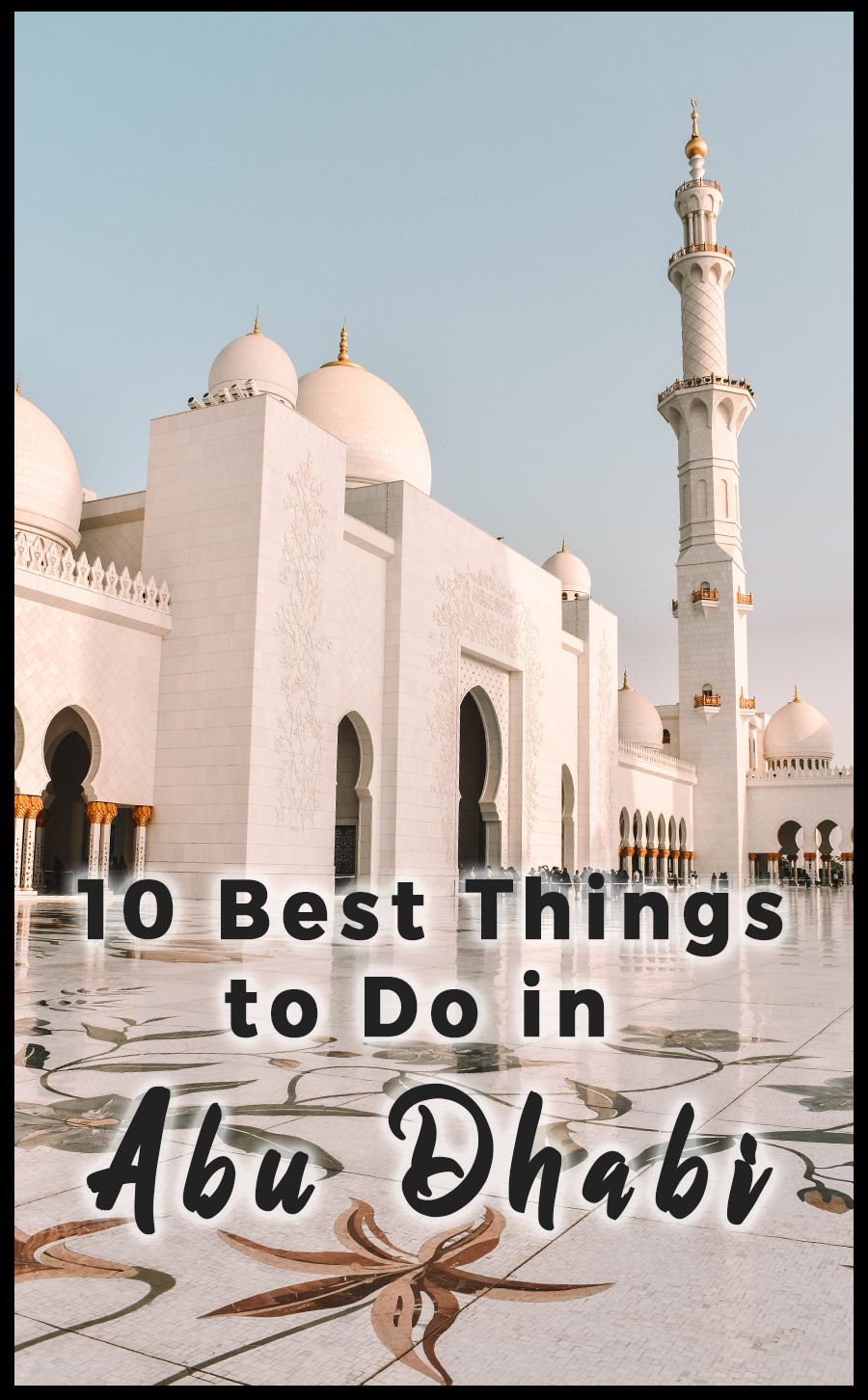 I admit, when I traveled to the UAE, I was most excited about my time in Dubai. But when I went to Abu Dhabi I was pleasantly surprised by the mesmerizing and rich history. In fact, I left feeling like Abu Dhabi was a place I'd come back to again.
Below you can find a map of all the places discussed in this post:
1. Sheikh Zayed Grand Mosque
It's hard not to be struck by the brilliant white minarets and round domes of the Grand Mosque. It's a must see for anyone visiting the UAE or Gulf region. Inspired by the Taj Mahal, this excellent architectural masterpiece combines symmetry and unity to display a beautiful mosque celebrating Islamic religion.
There are 82 domes, 1,1196 columns, each handmade with semi-precious inlaid stones with gold date palm trees at the top. There are seven chandeliers throughout made of Italian Murano glass and Swarovski crystals. It took 1200 artists to make the carpet. First opened in 2007, construction took 11 years but the planning process itself took 19 years.
There is ample parking around the mosque and manicured grounds. But don't, like I did, walk all the way up to the mosque. Instead, go the entrance to grab a ticket. This entrance takes you underground, which will take you on a series of walking elevators to the mosque. Here's what the entrance looks like:
Entry is free and I highly recommend that you take a tour. Tours are offered every hour and allow you access inside the mosque and to some other restricted areas you might not get to explore if you didn't take a tour. Plus, you get an understanding of Muslim religion and culture.
No holiday to Abu Dhabi is complete without a stop to the Sheikh Zayed Mosque. Make sure to leave enough time to explore. I recommend going just before sunset.
2. Louvre Abu Dhabi
I had no idea there was a Louvre outside of Paris, but it can be found in Abu Dhabi! This museum displays art from around the world, grouped by themes and date created. One of my favorite pieces was Egyptian pharaoh Tutankhamen's steele from 3,000 years ago, explaining him as the rightful king. The museum itself is a series of white buildings, reminiscent of an Arab medina. The building is an art piece itself, surrounded by the sea. Buy your tickets here.
3. Shangri-La Abu Dhabi
Upon entering the exquisite lobby of the Shangri-La Abu Dhabi you're greeted with spicy Arabian coffee and sweet dates. The grand lobby is adorned in marble, a chandelier and flanked by a staircase taking you down to the breakfast area and beach access.
Beautiful lamps on the way to our room guided the way, which gave a cool effect as we walked. The room was spacious with detail to symmetry and traditional arches in the design. However, The view from our room was the real treat. I immediately put on my fluffy white robe to enjoy the view and fresh fruit. We were also given delicious traditional Chinese tea. We had a perfect view of the apricot colored sand and the lovely Shangri-La Hotel.
The king-sized bed was comfortable and the sitting area had a lovely table topped with dates and some of the best baklava I've ever tasted. There's also a well stocked mini-fridge and fresh flowers in the room.
The shower and bath were large and the rain-water shower was the perfect refresher after a long day in the sun. One night we ordered room service (highly recommend the lentil soup) and rented a DVD from the concierge for a comfy night in.
It's so important to have counter-top space so that I can do my makeup and get ready for the day. Shangri-La offers plenty of space, plus a well lit mirror, and blow dryer.
The hotel is quite large, so to get the best view hop on a free boat ride! Yes, you can take a boat through the hotel property on the canal. There's also a souk in the hotel where you can go shopping, a Starbucks, and restaurants.
Walking out to the infinity pool you'll find lounge chairs and cabanas. Here, you also have the perfect view on the beach of the Grand Mosque.
There are also lots of activities offered such as fishing excursions and canoeing. There is another pool on the property (it's heated!), a gym, and a spa.
Continental breakfast is served daily from 6am until 10:30am. There is a plethora of options from dishes around the world, and even a chocolate fountain and ice cream was served! Of course, I had some.
While there are many hotels in Abu Dhabi, Shangri-La is unparalleled. With the best view of the mosque, a luxurious atmosphere and easy access to top sights, you can't beat it.
4. Falcon Hospital
I was surprised to see a falcon hospital listed as a top attraction in Abu Dhabi, but so many people recommended that we check it out. The hospital provides care exclusively for falcons and is also used for education and awareness. Falcons have played a crucial role in the UAE as Bedouin hunters used the bird to help find food.
Falcons are especially interesting because they can be trained to bring back their prey alive. This is necessary because in Muslim law, animals must be dispatched human hands in order to ensure that the meat is "halal."sh
Falconry is a very popular sport in Abu Dhabi and across the UAE. In fact, falcons are the only animals in the UAE that are allowed to travel inside planes. But only in business or first class! Going to the hospital will give you a better perspective of these incredible birds.
If you love animals I suggest checking out the Saluki Center in Abu Dhabi. Here, you'll find the Arabian dogs and learn more about how they are part of the culture. Bedoins, the native people of the Arabian desert, used dogs for hunting and as companions for over 5,000 years.
5. Heritage Village
To get a good idea of what Abu Dhabi looked like before the oil boom head to Heritage Village. You'll find local crafts, historically styled buildings and discover Islamic traditions set in a reconstructed desert village. Watch artisans make pottery, see a traditional souk, and find a traditional mosque reminiscent of per-modernized Abu Dhabi. There are monthly cultural festivals that take place, so be sure to check out the website so you don't miss out.
To get a good view of how Abu Dhabi looks today, head to the Etihad Towers Observation deck. You can have the perfect view at Quest restaurant on the 63rd floor.
6. Mangroves National Park
The Mangroves are a welcome oasis among the skyscrapers and barren desert nearby. Set right in the heart of this modern city is an ancient ecosystem where you can go kayaking or paddleboarding to discover the nature.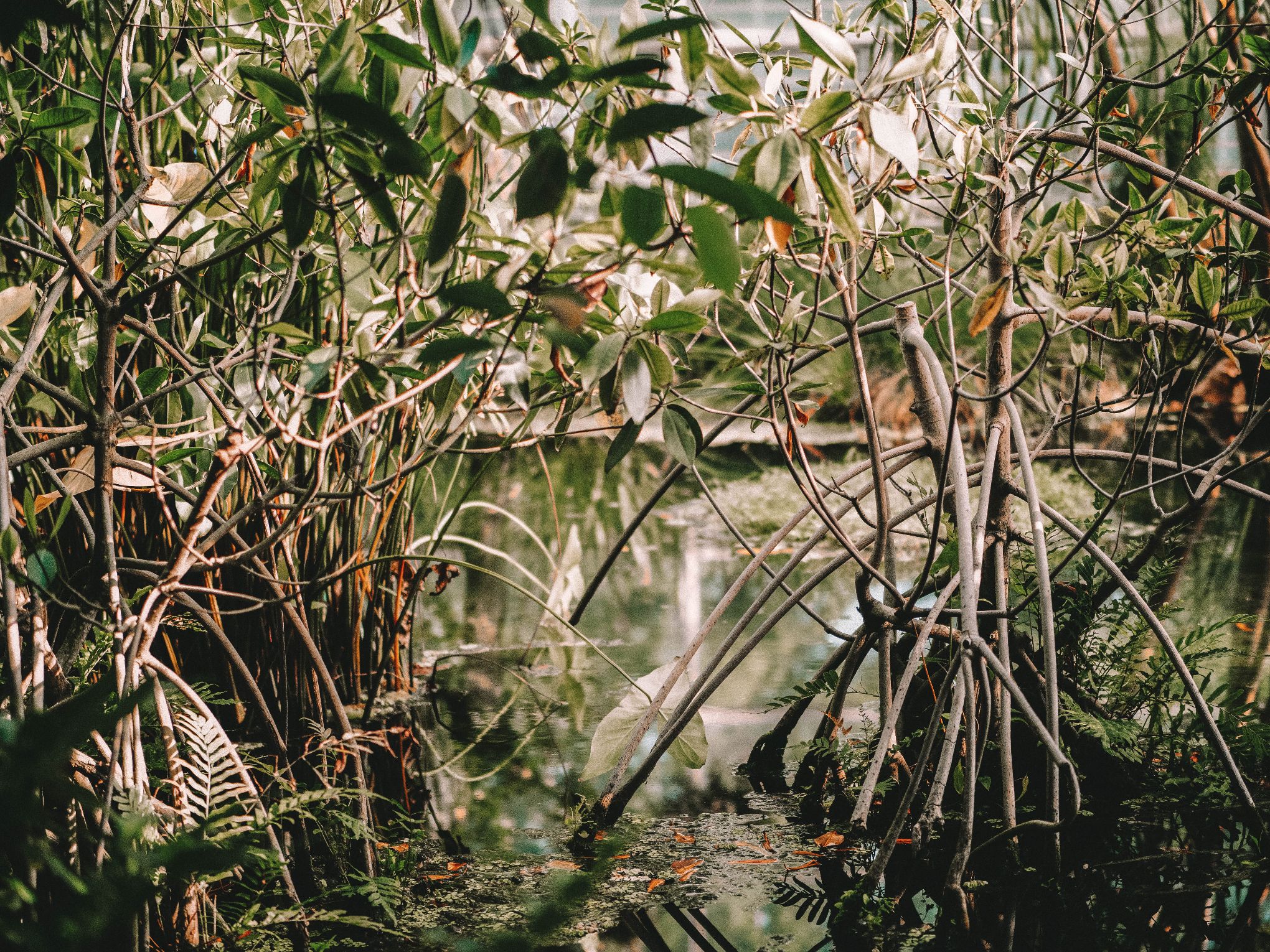 The groves cover 72 kilometers (about 45 miles) of coastline in the UAE. When you paddle out you'll find a surprising amount of wildlife and a bit of peace in a busy city. You can spend anywhere from 2-6 hours in the area depending on your activity level.
7. Emirates Palace
Emirates Palace is rated rightfully as one the best things to do in Abu Dhabi. This 2-mile luxury hotel takes opulence to new heights. The Emirates Palace Hotel cost $3 billion dollars to build, one of the most expensive hotels ever constructed, and is a mix of Islamic architecture and world-class amenities. Indulge in a 24-carat gold cappuccino or, like I did, walk around the grounds and take in the beautiful marble and gold accents. You might also recognize the hotel from the Fast and Furious 7 film.
8. Founder's Memorial
This memorial is dedicated to Sheik Zayed, the driving force for creating the United Arab Emirates. The exhibit is an interesting look at his life, some of his interests, and some of the changes he made to create the UAE. The exhibit is free and you can also take a tour with a guide who will share more about him and the exhibit itself. The monument of Sheikh Zayed is pretty incredible, it's a floating constellation of his face made out of 1300 plus man-made shapes. You can view it from all angles to see his face illuminated. There's a short video inside the memorial sharing more on how it was constructed.
9. Yas Island
The beaches in Abu Dhabi are surprisingly lovely. Some are private and accessed through your hotel, but there are some public beaches. Yas Island has some lovely beaches where you can lounge in the sun. Be aware some of the public beaches charge a fee (about 50-100 AED).
There are not only beaches on Yas Isalnd. Make sure to explore and find a few other attractions, such as the world's fastest rollercoaster and the world's highest roller coaster loop at Ferrari World. Of course, you can also find Ferrari inspired rides and activities for any age. Click here to grab a ticket.
Of course, you could also head to Yas Waterworld for over 40 rides, attractions and fun for the whole family.
10. Corniche
This lovely beachfront promenade is an ideal place to grab a bite to eat, go shopping, or catch sunset. Wander along the coast of the Dhow Harbor or rent a bike to explore more of the area and get a view of Anu Dhabi's impressive skyline. Corniche beach is right nearby and you'll pay 10 AED (about $3).
If you're looking for more pristine beaches check out Saadiyat Island.
What else can you do in Abu Dhabi?
From here, it's easy to go on an epic safari through the desert. You'll find some of the most pristine dunes where you can go camel trekking, dine by firelight, and see the most magnificent stars.
Of course, you can also head to Dubai from Abu Dhabi. It's just a short drive, about an hour and 15 minutes, to explore more of the UAE.
The beauty you'll find in Abu Dhabi is quite surprising. I found it to have great culture and a relaxing vibe.