Whenever it comes to the end of a trip I always ask: what was your favorite part? And I can tell you, my favorite part of our trip to Asia was cruising Halong Bay. Amidst the hustle that was Thailand and Cambodia, I was excited to have a more relaxed time on Halong Bay. I highly recommend adding this to your list if you venture to Vietnam. You not only get to see incredible sights, it's a nice break from the heat and you get to learn more about the natural formations that make up Asia. The gorgeous emerald water and literally thousands of limestone islands (some untouched) will bring out the wanderlust in anyone.

The Best Way to See Halong Bay, Vietnam
Below you can find a map of all the places discussed in this post:
[powr-map id=f38d9175_1510566008]
Why Cruise Halong Bay?
The best way to see Halong Bay is with a cruise ship. You go to parts of the sea and see islands that you just can't get to from the land. There are literally thousands of limestone islands topped with rain forests and caves, many undiscovered. It's such a unique experience from the bustling and busy cities of Asia. You really will feel like you're in a different world.
The Cost
In case you aren't aware, most places in Southeast Asia are cheap. Dirt cheap. For instance, you might pay 50 cents for a beer. So when you see the words "luxury cruise", you might think it will break the bank, but I assure you it won't! We took an incredible 2 day, 1 night trip with Indochina Junk tours. It was only $235 per person and this included pick up, one night in a hotel room, round trip transfer between Hanoi and Halong Bay, welcome drinks, all the meals on board, English-speaking guide on board, kayaking, insurance on board & entrance fees, tax and service fees, a visit to a Vietnam rural village, and a Water Puppet show. So, it's worth it.
Much like a cruise, you have your own small room and meals are provided. And the meals are incredible. 4-6 course lunches and dinners with artfully crafted food. But what's wonderful is that the ship is very intimate. Only about 15-20 people on board. Which means you get to really meet and interact with people from all over the world. These ships were originally Chinese sailing boats and came to Vietnam in the 14th century. They were used for centuries to transport goods and people along the coast. Now, many are used as passenger boats.
Getting there
We were staying at a hotel in Hanoi, Vietnam, and the cruise picks you up in a car (we actually happened to get a limo- bus, a lucky coincidence) to take you to the dock. The drive is about 3 and a half hours, so we took in the scenery of rice fields out the window.
Our Agenda
Day 1
8 am – We were picked up in a luxury van from our hotel in Ha Noi.
12 pm – Grab a welcome drink and embark at the Hon Gai International harbor. You can watch as all these cool ships dock and pick up passengers.
1 pm – We were briefed on our cruise ship, met other passengers, and met our incredible tour guide. We met the staff, all who were so kind and most spent the nights learning English. Quite honestly, these were some of the hardest working people I've come across. We dropped off our stuff in our room and glanced at our view outside the window.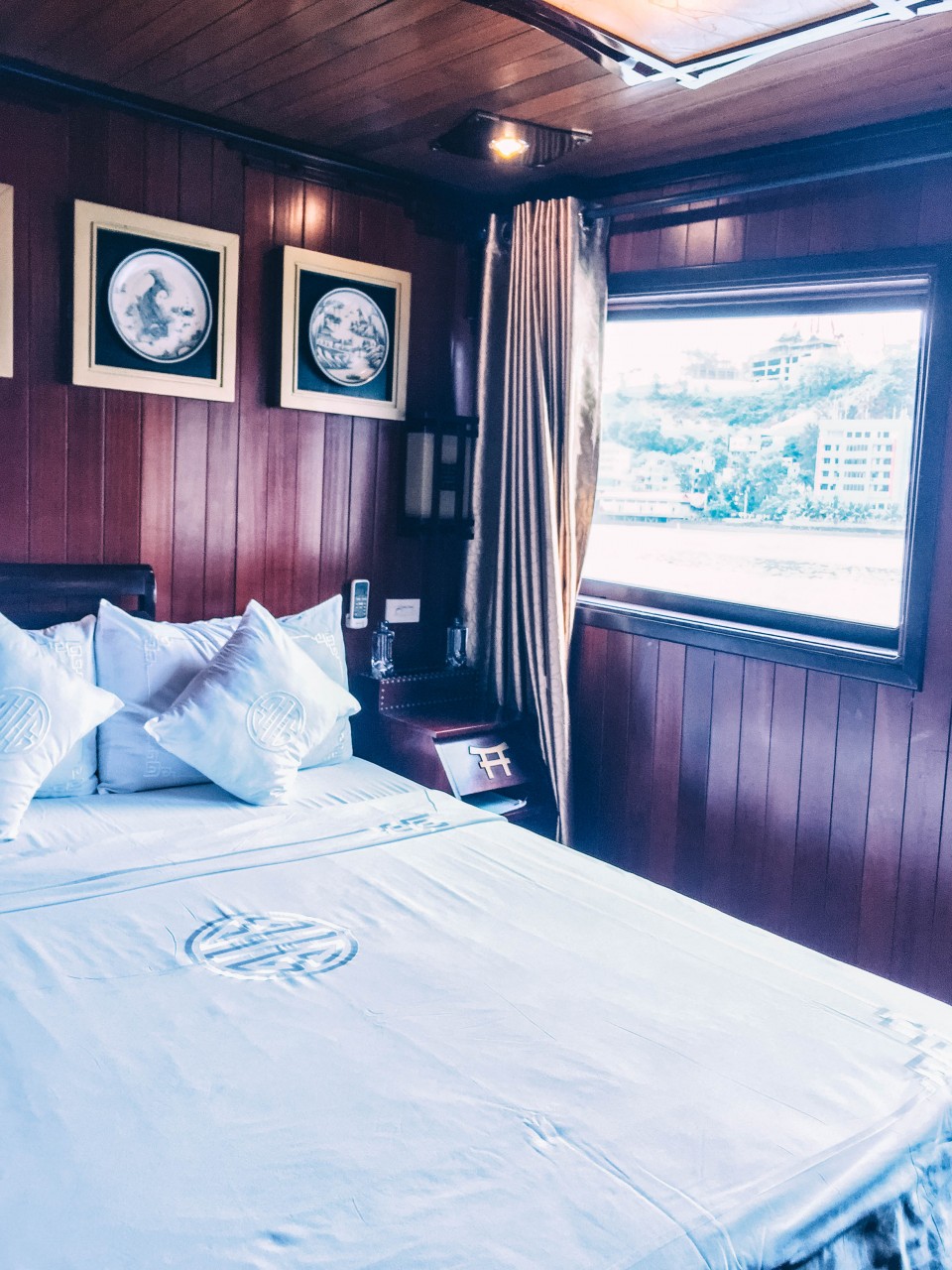 1:30 -3 pm – We had a delicious 9 course (seriously) lunch and cruised the magnificent Bai Tu Long Bay. It felt like a movie set with these intricate limestone rock formations peeking out of the emerald green water.
3:15 pm – Our first stop was to explore the Thien Canh Son Cave. This is a wonderland of rock formations and stalactites, many resembling animals. After you leave the cave you have a great view of the water and ships below.
We spent time wandering the sandy beaches and kayaking to explore the beautiful rock formations all around. We even found a cave on our own while we were exploring.
6 pm – We boarded the ship again, ate dinner, and relaxed. We watched the sunset over the Bay with cocktails in our Indochina robes.
We spent the evening on the top deck as we watched the stars above and made friends with our shipmates. We all exchanged travel stories and numbers. I actually still keep in touch with a few of the others on board.
Day 2
8 am – We woke up to a beautiful breakfast (everything on board was so delicious) and watched the view of the Bay's landscape.
9 am- Visit the Vung Vieng fishing village. Here, we loaded into a rustic row boat, made from bamboo, while a very strong, local woman paddled us to their fishing village. This is a traditional fishing village and we discovered what life is truly like here. They fish, look for pearls, and sell their wares to tourists.
We shopped for pearls and learned more about how this fishing village stays afloat. That was a pun, but quite literally, it was unique to see these homes on top of the water.
11 am – Last meal on the boat is served and we cruised back to the harbor.
12 pm – Disembark the cruise ship and hop on a bus to Yen Duc village in Dong Trieu province. Here we were heading to enjoy a water puppet show. This is a village located on the highway between Hanoi and Halong Bay, so it was a perfect stop on the way home.
2 pm – Local artists put on a traditional water Vietnamese water puppet show. This is a great way to see Vietnamese' rural folklore, and it's incredible to watch them work magic with puppets underwater. For generations, farmers have performed the show and we ate local fruit while they performed.
5:30 pm – We arrived back in Hanoi.
When to go:
November is really the best bet. This is the time we went. Not only is the weather more favorable, it also coincides with many festivals in the area and nearby. Before coming to Vietnam, we were in Chiang Mai for the Lantern festival (also, one of the coolest experiences in my life!). Typically, high season is June to August so expect tours to book really quickly. Boats can hold up to 16, plus a crew of 6, so it fills up fast. February to April is typically rainy and it's more foggy, so your visibility is low to see all the cool rock formations.
How to Book a tour:
We booked ours through Indochina Junk (my husband Michael did extensive research and felt this was the best. This post isn't sponsored at all, this is just want we liked doing.) It was well organized and easy to communicate. There are many different boats and tours, so do your research and find one you like. You can check out other Asia tours and find some really amazing deals.
I hope one day to go back and do another tour. I know there's so much to see and explore!
If you'd like to see more of my travels in Asia, go here.