I don't know about you, but I tend to tear up easily this time of year. The twinkling lights, the general "holiday spirit" and kindness of others around me. It's all just such a wonderful time. The holidays remind us of some of our fondest memories. Today the wonderful Katie of For Lauren and Lauren and I are sharing a Christmas memory.
Every year on Christmas Eve my family goes light looking. We pile into the car with blankets and ice cream (makes no sense, I know) and drive around Highland Park (one of the nicest neighborhoods in Dallas.) Last year was rough for my family. I had just broken my ankle and was using a walker. My sisters were struggling to pick which college to attend. And my Dad was sick.
Since his diagnosis with cancer, I had a really hard time handling it. I did fine with my sister having Leukemia, I could be brave and strong for her. But for my Dad, I crumbled. But this past Christmas when we did our favorite tradition of looking at lights, it all went away. It was just time with my family. This Christmas is a little bit different (and better!) My sisters are both in college. I am walking. And there are no signs of cancer right now for my Dad. It's amazing what a year can do.
Before I let Katie talk about her memory I have to tell y'all, I love her. Katie is one of the genuinely sweetest bloggers I have come across. She's open and honest on her blog. After some struggle, she and her husband just gave birth to a beautiful baby girl. And she's not an over the top mommy blogger. She's fashionable, and the best bargain shopper ever. (No, really). So I'll let her take it from here!
One of my favorite things about Christmas is all of the traditions that my family has. When Chris and I got married, I know that he thought my family may be a little overboard with our yearly traditions, but now he either loves it or knows not to say anything.
On Christmas Eve we always read the Christmas story from the Bible. When we were little we used to dress up as one of the "characters" from the story. There was always a fight between my sister and I about who got to be Mary, and clearly based on the two pictures I found she won more than me.
An angel is just as important though right?
Better than a sheep, which I did resort to one year.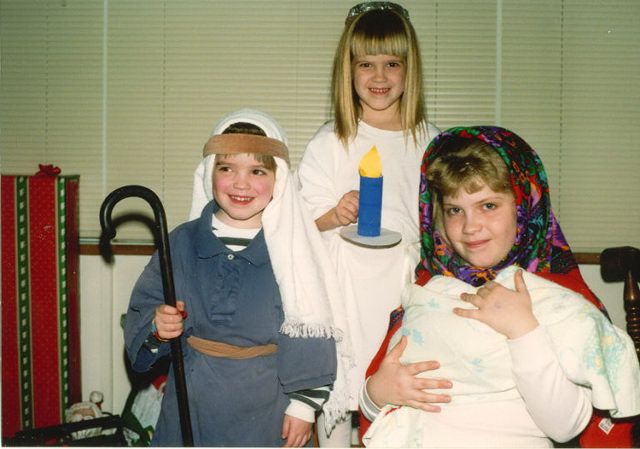 And I was clearly working hard at playing the manly part of Joseph.
While it's been many many years since we've dressed up I think it's time to start that tradition now that we have a baby, along with a niece and nephew to play along.
My other favorite tradition is getting our Christmas tree the day after Thanksgiving. My family always goes to the same place and cuts down our own tree, eats homemade donuts and spends the evening decorating the tree and eating pizza.
When we were younger we had this ridiculous tradition of dancing around the tree before we cut it down. Which embarrassingly continued into our adult years. Thankfully now we have kids to do the dancing for us, and even Addilyn participated.
I also get to add a new tradition this year, which is taking a million pictures of my baby for Christmas cards. Hopefully she'll cooperate for a few more years at least.
What's your favorite Christmas memory?
Katie is kind enough to be giving away a $25 Target gift card! Enter in the rafflecopter below!