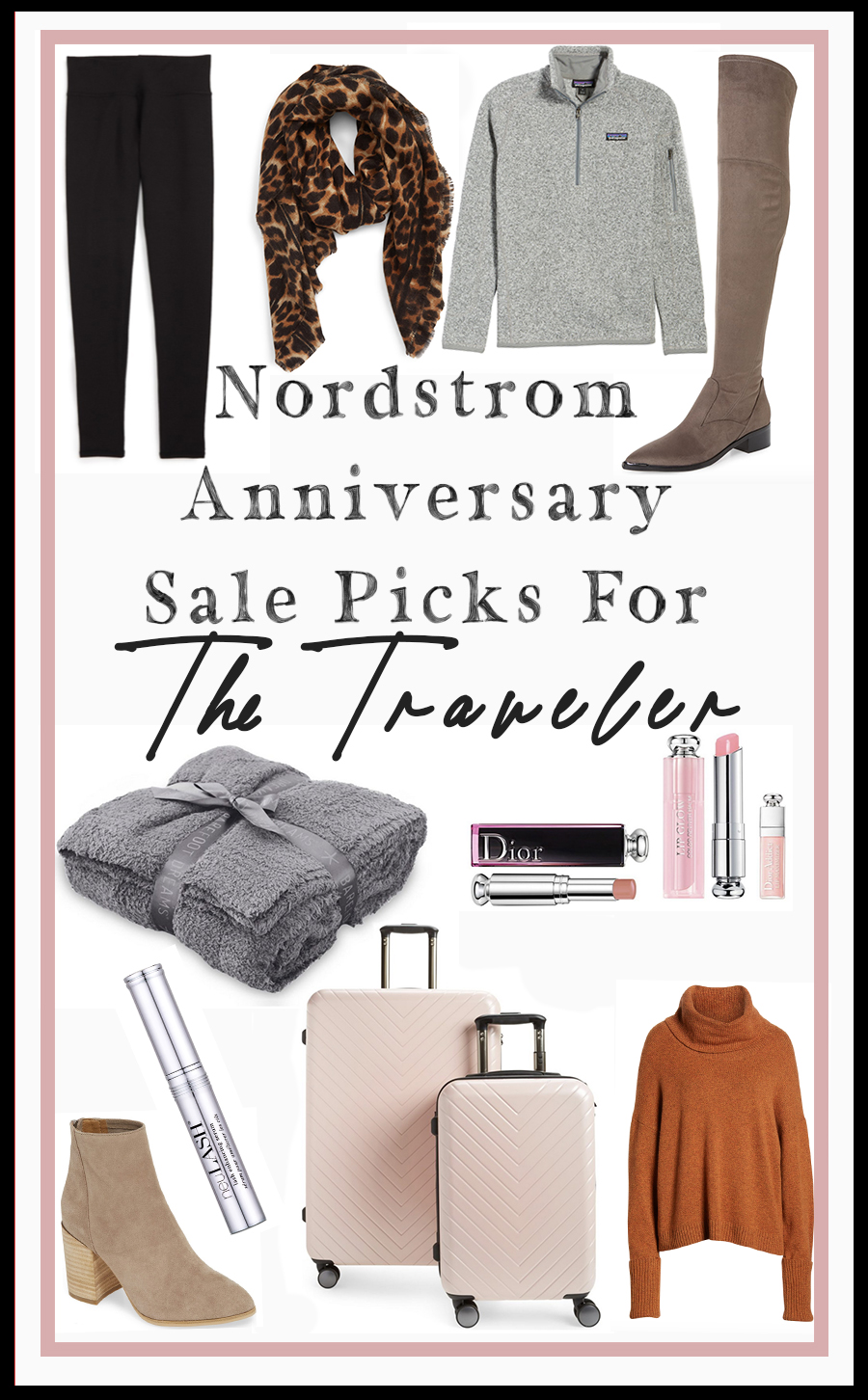 My Nordstrom Anniversary Sale Picks For the Traveler
The Nordstrom anniversary sale is here, and it's kind of a big deal. if you follow any fashion blogger in the USA then you've heard about it. There is a reason for it, It's a good sale.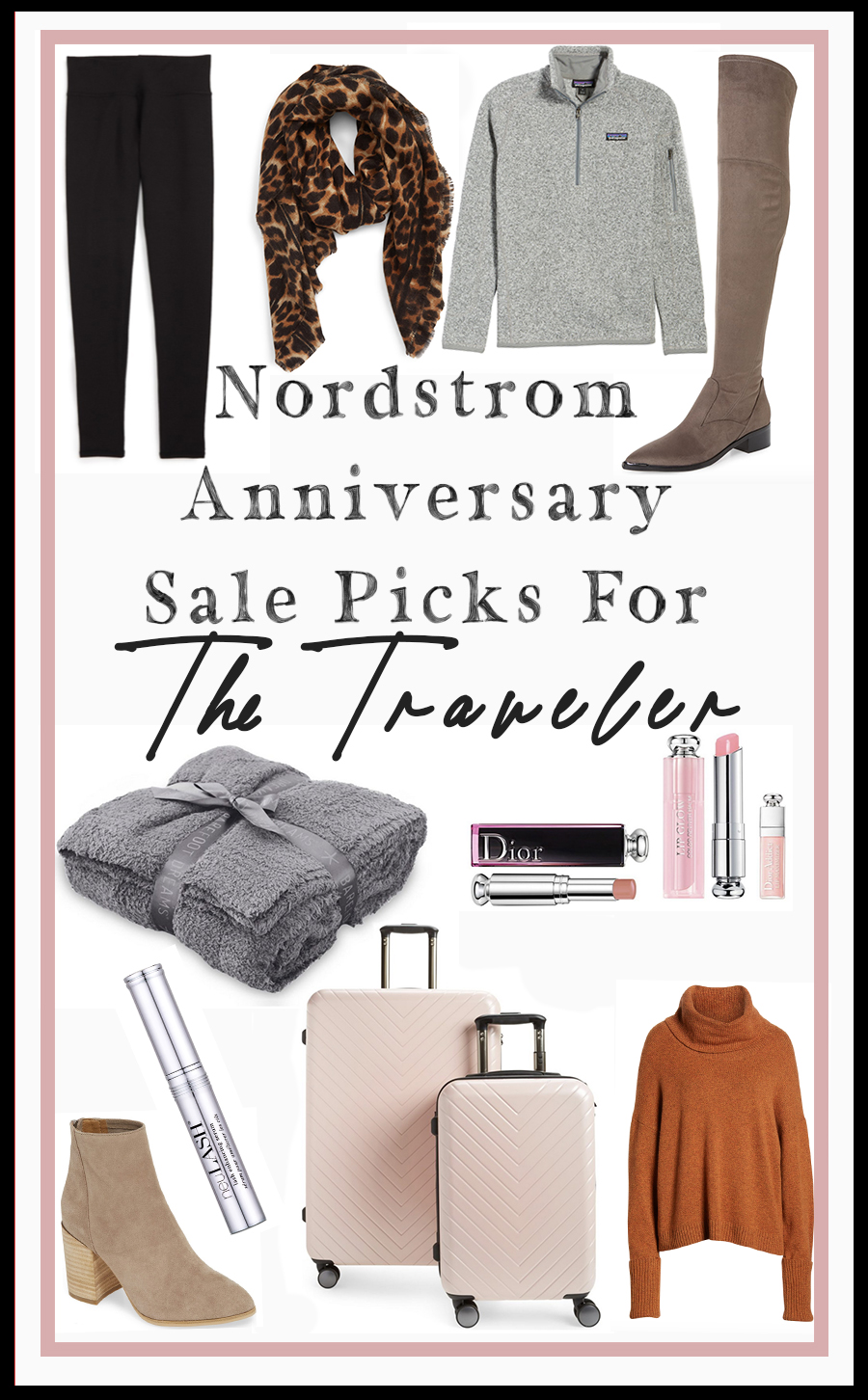 I am not one to shell out a ton of money on fashion, but I will spend a little more when I know something is quality that will last. And that's why I always shop the Nordstrom sale. I've decided to share what I will purchase this year as a traveler. These are the items I know hold up, pack well, and are a good deal, especially if you're on the go.
I've rounded up the items that are a staple in my closet and are great picks for the #NSale.
Nordstrom card members get access starting July 12th to brand new merchandise (usually Fall themed) and staples. Then on July 19th the sale opens to the public. Prices go back up on August 5th. So it's quick.
Some of my favorite brands go on sale like Zella, Madewell, Topshop, Dior, Charlotte Tillbury, Sam Edelman, and more.
Your best bet for shopping the sale are finding pieces you know you need, make a list, and then see what they have. I tend to buy a few things throughout the sale so I'll be sure to update this guide with anything I buy. Here is what I recommend.
What A Frequent Traveler is Buying From the Nordstrom Anniversary Sale
Best #NSALE Tops

BP Fitted Crewneck Tee, originally $17 on sale for $10.90. I need basic tees. i wear them with jeans, shorts, under dresses, etc. These are some of the best and hold up so well. I'm restocking my closet after 3 years! I'm also buying a few colors in the long-sleeve version.
BlankNYC Next Level Suede Moto Jacket, originally $188 on sale for $125.90. This jacket is just lovely. It's perfect for Fall, cold planes, or the chilly weather in Scotland. or Ohio. Wherever you are this jacket makes any outfit look chic. Including the tee above and the leggings below.
Patagonia Better Sweater Quarter-Zip Fleece Pullover, originally $99 on sale for $69.30. I am obsessed with this half-zip pullover. I have it in white and I am buying it in black and grey. I wear it constantly. I've had my original one for 5 years so decided to treat myself and get a new one. It's something I wear for everything: hiking, walking, lounging.
Zella Elevate Wool & Cashmere Wrap Sweater, originally $169, on sale for $112.90. This sweater isn't cheap but it's cashmere! It holds up so well and is so soft and comfy. It's also by Zella which is one of my favorite brands.
Chelsea28 Cowl Next Sweater, originally $79, on sale for $49.90. Classic sweater, great color. I also like this one, on sale from Caslon.
Madewell Faux Wrap Sweater, originally $79.50, on sale for $52.90. I love the idea of wrap sweaters but then they always fall open. That's why this faux one is kind of awesome.
Topshop Patch Cable Crewneck Sweater, originally $68, on sale for $44.90. I have got get this because I wore the absolute shit out of my other one. That's how often I wear it. This one is super thick and a good length. See my Instagram for proof.
BP Lace Trim Satin Camisole Top, originally $39, on sale for $24.38. Just a great lace camisole that goes well under everything.
BP Long Sleeve Rib Tee, originally $29, on sale for $18.90. I am buying this in every. single. color. I know, it's just a t-shirt but it just lasts forever.
Thread & Supply Wubby Fleece Pullover, originally $78, now $49.90. Fun story. I tried ordering this fleece last year during the Nordstrom anniversary sale. But the thing is, I live in Germany. I ordered it, and Germany sent it. But I wasn't here. So they sent it back. Horrified, I called Nordstrom. They immediately refunded me, then offered to try and resend. At that point it was a lost cause. BUT, I am getting it now. Thank you.
Long Sleeve Thermal Henley original $38, on sale for $24.90. I know, this is a lot of tops. But this is the last one (promise!) and I adore henleys. So comfy and cute. Also thinking about this henley too!
Best #NSALE Bottoms

Zella Live-In leggings, originally $59, on sale for $35.40. These are the best leggings in the WORLD. After 3 years I'm finally buying a new pair. The only reason is because I went hiking and a stick scraped my leg and I have a small hole. I wear these for lounging, working out, hiking, walking around, LIVING. They are the best. Buy 8. They are comfortable, high waist, and moisture wicking. I also wear them with sweaters and dress them up with boots.
Good American Good Legs High Waist Skinny Jeans, originally $169, $112 on sale. Slimming jeans? Yes please. These jeans are not cheap, but they will last you a very long time. They are a staple. Also thinking of buying the AG Ex-Boyfriend Relaxed Slim Jeans, originally $225 but marked down to $149.90 during the sale.
BlankNYC Suede Miniskirt, originally $98 on sale for $64.90. It's just too pretty and would make any outfit look glamorous. Perfect for a night out on the town, with tights, without, etc.
Nike Dry Tempo Running Shorts, originally $25 on sale for $17.90. These are the perfect shorts for running around in, or in my case, running around the airport.
BP Corduroy Miniskirt, originally $49, on sale for $31.90. I adore corduroy. I don't know what it is but I can't get enough. I have been eyeing this rust colored skirt and this price is awesome.
Best #NSALE Shoes
Steve Madden Jillian Bootie, originally $129.95 but marked down to $86.90 during the sale. These are great shoes for a night out, no matter the weather. I do love a good pair of booties that can go with everything. If I'm not wearing white Superstar Adidas that means I probably had to dress a bit nicer. These are a great pick.
Marc Fisher LTD Yakira Over the Knee Boot, originally $239.95 on sale for $159.90. I hate to admit it, but I adore over the knee boots. They are so cute in the fall with an oversized sweater. Call me basic, I do not care. These have a short heel, not too high, and go with everything. I also like these black Blondo Tatum Waterproof Over the Knee Boot, originally $259.95 on sale for $169.90.
Madewell Remi Genuine Calf Hair Mule, originally $88, on sale for $54.90. Because that price is just too dang good and these are adorable.
Best #NSALE Beauty

Neulash Lash Enhancing Serum Duo, originally $190, on sale for $97. If you indulge yourself in one thing, may it be the Neulash enhancing serum. It works. I've had 3 tubes over 4 years. I don't use it daily but every couple days. It lengthens and strengthens your lashes. I'm obessed.
Addicted to Dior Glow Light Glow Lip Set, originally $93, marked down to $70 during the sale. I know Dior is expensive. I know. But it's so wonderful. It just seems to last and last. I plan on purchasing this because I always travel with Dior lipsticks in my purse.
Charlotte Tilbury Supermodel Body XL Shimmer Shape, Hydrate & Glow, originally $217, on sale for $85. I've heard so many wonderful things about this self tanner and I've been wanting to try it forever but the price made me shy away. Now's my chance!
Laura Mercier Prime & Perfect Collection, originally $54, on sale for $39. I watch a lot of beauty on YouTube. Everyone swears by the Laurac Mercier translucent powder. I'm so excited to try this cult favorite, in a set!
Best #NSALE Extras

Barefoot Dreams CozyChic Throw, originally $147 but marked down to $97.90 during the sale Everyone and their mom freaks out about this blanket. So I am getting one. I think this would be perfect on the plane, road trips, or draped over my couch that I need to purchase because I currently have no furniture.
Chevron 29-Inch & 18-Inch Spinner Set, originally $368, marked down to $232.90 during the sale I still swear by my Osprey Porter backpack. But I am thinking about getting rolling luggage and I've read tons of reviews on the best. This hard case, rolling luggage is the real deal.
Rebecca Minkoff Jody Suede Feed Bag, originally $248 now $165.90. I only carry a crossbody bags. They are safer when you travel, easier on your back, and give you both hands. I love this pretty green color of this bag and like the size. It holds everything I need and isn't too bulky.
Brixton Joanna III Wool Felt Hat, originally $88 on sale for $58.90. Are you even a travel blogger if you don't have a hat? 4 years ago I bought a felt hat from the sale. Now, I need a new one.
Sole Society Leopard Print Blanket Scarf, originally $44.95, on sale for $26.90. Nothing jazzes up an outfit quite like a scarf. Also leopard? So hot right now.
T3 1.25 in Curling Iron, originally $160 on sale for $107. This is the best curling wand out there. Ever. It somehow makes beautiful curls and doesn't harm my hair.
What I'm NOT Buying
These are the items that, in my opinion, are overly hyped and not worth the price.
Steve Madden Feather Studded Loafer, originally $89.95, on sale for $59.90. These hurt your feet! I really don't find them comfy at all.
Halogen Pleated Midi Skirt, originally $119, on sale for $78.90. I love a good skirt but this price is still WAY too high. You can find similar for much cheaper here.
Rag & Bone 61mm Aviator Sunglasses, originally $295 on sale for $196.90. Before purchasing these sunglasses PLEASE ask yourself: do these really look good? And is paying nearly $200 a good price. No and no.
And there you have it! My picks for the Nordstrom anniversary sale. Will you be shopping?