It's clear why Tuscany has been the backdrop of many movies, books, plays, and novels. The cascading cobblestone streets, rolling green hills dotted with poppies, and the promise of delicious pasta and gelato make for the perfect escape. But there are so many cute little towns – how can you ever choose?! This guide is going to help you to see the best of Tuscany, the can't miss spots, and give you a full Tuscany Itinerary you'll want to steal. And you're welcome to do just that.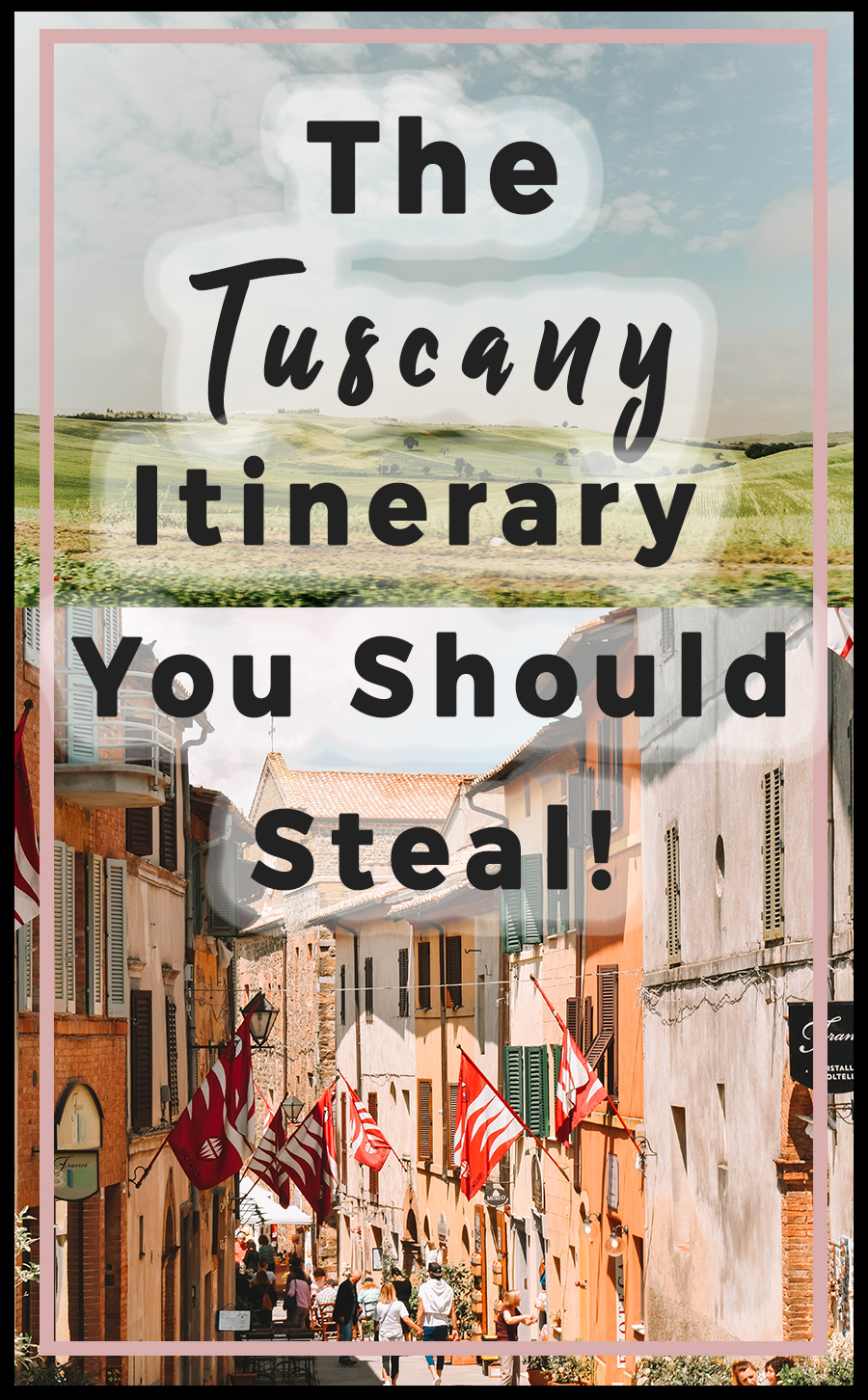 For the purpose of ease, I'm calling this post a one week Tuscany itinerary. But I also focused on cities outside of Tuscany, in the regions of Umbria – such as cities like Perugia and Assisi, Terni and Lazio. If that's confusing, just know that these regions of Italy are right next to each other so it made sense to go to all of them.
Below you can find a map of all the places discussed in this post:
The Tuscany Itinerary You Should Steal
In order to see the best of Tuscany you need a plan and most likely, a car. There are so many spots along the way you'll want to stop and gawk at or snap a photo of. There is public transportation, but to get to all the small, charming towns, a car is really best. This itinerary will be particularly helpful if you have a car. Luckily, renting a car in Europe is relatively inexpensive. I suggest checking rates with companies like Sixt where you can find great deals no matter where you're traveling.
The only problem with driving is finding parking. You MUST be careful where you park in Italy. You could wind up in a very interesting situation. I'll elaborate more down below!
I tend to be a go, go, go vacationer. But I had recently torn my ACL while skiing in the alps and this trip to Tuscany was actually the perfect speed. It's nice to slow down the pace and enjoy the countryside and everything the region has to offer.
How much time to spend in Tuscany
You can easily stay under the Tuscan sun for months, years, even. But since we don't always have that much time I created a one week itinerary for Tuscany. I suggest 4-7 days in Tuscany to really see it all. Florence is a big city with lots of sights, so I suggest 1-3 days here alone. I've done trips that were 10 days in Italy and also spent 5 days just in Tuscany. This blog post is going to focus on other cities outside of Florence since you can read my guide for that city here.
How to get to Tuscany
If you're only spending time in Tuscany or want to fly directly, I suggest flying into Florence or Perugia. For this particular trip, I'd already been to Florence, so I wanted to focus on more of the countryside of Tuscany and the tiny villages that lie between the countless vineyards.
If you're coming from places like Rome or Venice, you can easily take the train directly to Montepulciano or Florence. I personally use GoEuro to book all of my train tickets in Europe. It's just the easiest, and it will give you a vast number of times, options, and prices.
Where to stay in Tuscany
For our home base, we chose Montepulciano. You know how when you lay eyes on somewhere new and immediately fall in love? That's how I felt at Sant'Antonio Country Resort in Montepulciano. Driving here was one of the most scenic roads I've had the pleasure to ride shotgun on. You'll see the typical Tuscan landscapes with rows and rows of vineyards and lush green hills.
We drove up from the train station in Perugia to one of the most picturesque scenes: miles of rolling hills, olive trees galore, and a 800-year-old former monastery turned hotel. We stayed in a large private villa that included a kitchen, large bedroom, bathroom, and my favorite part, a living room complete with a fireplace. Upon arrival, we cracked open a bottle of red wine and watched the fireplace flicker. It was the perfect start to our Tuscany trip.
Sant'Antonio was the perfect location to easily get from place to place, along with ample parking. The furniture is original seventeenth and eighteenth century and made for a cozy oasis in the hills. The rooms are stocked with local wines from the area along with water, beer, and soft drinks. There's even a swimming pool, a running path, and lovely garden.
The ambiance is peaceful and provides the perfect respite after a day of touring around Tuscany. I felt like I had my own moment of "Under the Tuscan Sun" in our lovely villa. We'd open up the windows and look out to see the gorgeous countryside. The owner is also one of the most dynamic people I've met and makes you feel right at home. I highly recommend Sant'Antonio.
Day 1 – 3 Florence
There is so much to see in Florence, so I suggest spending a good 2-3 days here. The architecture incredible, scenery captivating, and the museums are world renown. I suggest touring the Duomo, visiting the Uffizi and Galileo Museum, seeing Pitti Palace, and walking on the Ponte Vecchio.
If you have extra time, I suggest making a day trip to Pisa when you're in Florence. It's an easy half-day trip, and you can hop on a train to get there and see the leaning tower. You can read my guide to Florence and Pisa here. This post is going to focus on more of the Tuscan hillside towns and the scenic places you can see along the way.
Day 3 – Assisi and Perugia in Umbria
Technically, Assisi and Perugia are in Umbria, just after the border for Tuscany in Italy. We started the day by driving from Montepulciano to Assisi. The drive is about an hour and a half and is full of plenty beautiful sites along the way and bright reddish-orange poppies dotting the paved roads.
I was excited to see Assisi, as I grew up Catholic, I knew this was a hot spot for one of our most famous and important saints, St. Francis, and a UNESCO heritage site. The city is situated upon a hill and it rose out of the fog in the distance in front of us. We drove up to the city and found some free parking just before the pedestrian zone in the town.
As we walked into town I marveled at the beautiful stone of the homes and buildings. Fist, we went to Basilica of San Francesco d' Assisi. This is the burial place of St. Francis of Assisi and it's absolutely stunning inside. You'll find that St. Francis himself is buried in the church. Surprisingly, Assisi and the basilica have suffered a number of earthquakes. There has been extensive work to rebuild from the damage.
This well preserved city has a maze of cobblestone streets and you'll find a panini stand on nearly every corner. Eager to try some food, we picked up a toasted sandwich made with delicious cured meat and a glass of wine for an additional Euro. In all of the towns in this area each one has a myriad of flags, all different from town to town. We always stopped to take note of the city's new flag.
After getting a good view of Umbria from Rocca Maggiore, we headed on to our next destination: Perugia.
The drive from Assisi is heading back towards Tuscany and only about a half hour. I read online to park near the train station and take the Mini Metro up to the town. DO NOT DO THIS. There is plenty of parking in the old part of the town and I wish we had listened to our guts and not parked in the garage. I'll explain why shortly!
The Mini Metro is a hilariously small tram that takes you up to the hilltop and old part of Perugia. After taking the Mini Metro up, you take various escalators up to reach the top of the town. We walked around the town and stumbled into chocolate shops. Perugia is famous for its chocolate and Baci Perugina-  chocolate filled with hazelnut. You can go to the Perugina House of Chocolate to try all the different flavors and learn how it's made. My favorite was the delicious dark chocolate balls.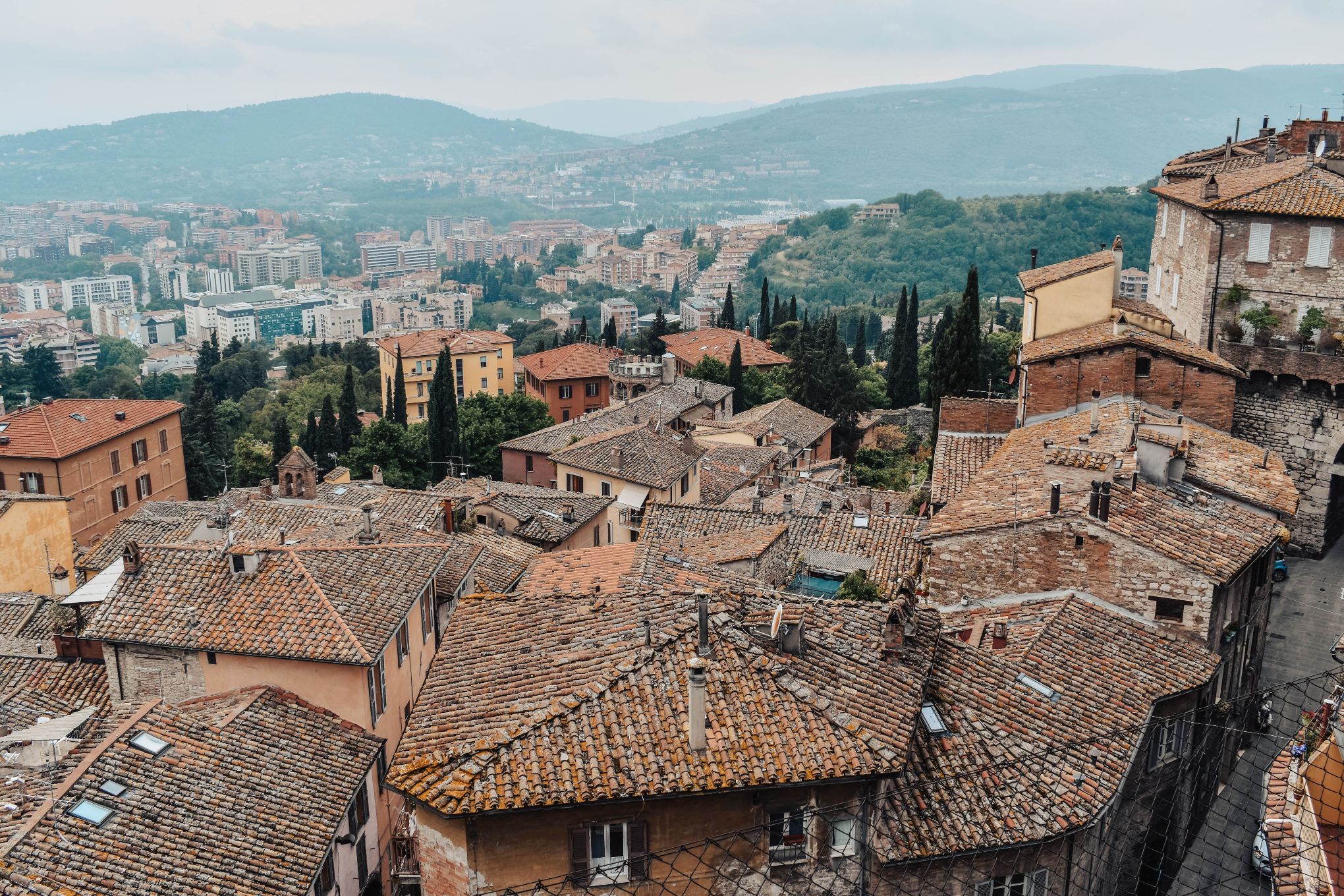 Since my sweet tooth wasn't satisfied yet, I opted for gelato at Gelateria Gambrinus. I'm telling y'all, this was one of my favorite gelatos I've had in Italy. And I've had a LOT of gelato.
We attempted to walk off some of the calories and strolled by the Palazzo dei Priori and Collegio del Cambio. Then we went to Basilica di San Domenico, the biggest Basilica in Umbria. Don't forget to go inside to check out the beautiful stained glass.

We made our way to the main square, Piazza IV Novembre, with the gorgeous fountain, Fontana Maggiore. The medieval fountain dates back to 1275 and marks the end of the former Roman aqueducts for that area. Behind the fountain is the medieval cathedral, Cattedrale di San Lorenzo.
We walked over to the aqueduct after which is surprisingly uncrowded and offers one of the prettiest views in the area. Just a few minutes from this spot, we found a great place for dinner, Tozza e Bocconi. We were told a few places to check out and they all looked too touristy. Sometimes just wandering and finding a place is best.
A couple of bottles of wine later, we decided to go back. But on our way back to the metro, we stumbled upon a spot claiming, called Il Birrino, to be the "3rd smallest bar in the world." I've come to find this is definitely false, upon various Google searches for, "smallest bar Perugia," I've come up short.
Why you shouldn't park your car in a garage in Italy
Later than expected, we headed to the Mini Metro, only to find that it closes at 9 pm. Tired and weak (remember, I'm on crutches), we go to the bus stop. We called a cab as well, but they told us it would take 20 minutes which was the same time we'd have to wait for the bus. When we got down to the train station we walked to the garage. Curiously, no lights were on. And worse still, there was a metal grate locking in all the cars.
Puzzled, we walked around trying to find answers. We looked at all the signs posted at the entrance of the parking garage and nothing mentioned anything about closing times. We even asked police officers nearby and after they tried to help with no success, we looked online and found that the garage closed at 10 pm.
We were sleeping in Perugia that night.
Luckily, we found a really nice hotel that I'd actually recommend if you wanted to stay in Perugia or the Umbria region! Hotel La Rosetta was surprisingly nice and came with a great breakfast.
It was an unfortunate and somewhat hilarious situation. I've been told parking can be tricky in Italy, and now I won't be parking in a garage in Italy any time soon. Typically, if you want to park, the blue lines mean you need to "pay and display." So, pay at the meter and display that you've paid with the receipt in the window. White lines typically mean free parking. As for garage parking, read the signs. If there are none, skip it.
Day 4 – Orvieto and Civita di Bagnoregio
After our hiccup the day before, we were ready to hit the road and explore more. We headed from Montepulciano to Orvieto, about an hour long drive. Orvieto is in the Province of Terni and holds one of the most incredible cathedrals, Cathedral of Orvieto. This small city dates back to 1290 and was once the center of Etruscan civilization. There's also the archaeological museum that features many artifacts from the Etruscan period.
This tiny town was easy to meander around and was pretty quiet compared to some of the other towns we visited. While the cathedral was impressive, I was most taken with the food. We ate at Trattoria Del Moro and before walking in, we talked to a guy outside who raved about his meal. "Best in Italy," he gushed. He wasn't lying.
I had the most decadent four cheese ravioli. It was so simple but so divine. Michael ordered something called "nidi" which was pasta filled with pecorino cheese and drizzled with honey. If it sounds weird, it doesn't matter, because it tasted delightful.
After seeing the cathedral, it started raining, so we opted for gelato just beside the cathedral at Gelato at di Pasqualetti. Another good option in case it rains, or just in general, is the Posso dell Cava, an underground city. You'll find Etruscan homes and underground routes and tombs, textile workshops and more 36 meters deep!
Escaping the rain, we got in the car and went to Civita di Bagnoregio in the Lazio region. I had no preconceived notions about this place, but I can tell you it's worth it to see this incredible city. This beautiful hilltop top town is perched high above the valley, dramatically rising into the sky. The long bridge leads up to the city and is only wide enough for a moped or tiny vehicle.
The city truly looks like a painting and we stopped and stared before making the trek up. Again, this spot was relatively quiet. So much so, I was able to grab some pictures without anyone else in them!
Civita di Bagnoregio is known as the "dying city" as there isn't much life here and the erosion of the soft volcanic rock has put the place in danger. By the time we got there, the few restaurants there were already closed. There are a couple places to stay here, but it's mostly quiet. I highly recommend seeing this place as little has changed since it was built in the 6th century. The cobblestone streets and vine-covered villas are like walking into a fairy tale, complete with friendly cats who follow you as you make your way through the tiny village.
For dinner that night, we headed to the grocery store and picked up Italy's finest wines, cheeses, meats, and bread and went back to our sweet Sant'Antonio Resort in Montepulciano. I absolutely adore having a meal like this. It's cheaper and often very tasty. Another reason why I loved our stay in Montepulciano, was the ability to have a real dinner since we had a kitchen. We couldn't help having a fireplace and savoring the red wine from the region.
Day 5 – Pienza and Montalcino

Today, we focused on Tuscany with our first stop in Pienza, just twenty minutes from Montepulciano. This town was such a treat and felt like the perfect representation of true a Tuscan town. The gem of the city is a UNESCO world heritage site in the Val d'Orcia area of Tuscany. The Piazza Pio II is the main square which is flanked by the lovely cathedral, St Mary's, which is stunning inside. You'll also find great views behind the church.
We also found a wonderful gelato shop with a chef who came back to Italy to share his passion at Buongusto. He makes unique flavors based on the different seasons and the strawberry with rosemary flavor was surprisingly delicious.
Next, we headed to our much anticipated wine tasting and tour in Montalcino. We went to gorgeous Poggio Rubino for our wine tasting. For only $15 per person you get a tour of the winery (ours was even a private tour!) and you get to try various wines along with cheese, meat, bread, and olive oil and balsamic vinegar. This is one of the highlights of the trip for me. The Brunello red wine was exceptional and satisfying.
All of the wines, olive oils, and grappas are made with the highest quality ingredients. We even took some grappa to take home with us. Although, it didn't quite make it since we drank it all. I'd highly recommend this tour because it helps you have more of an appreciation for wine, it's a great price, and the wine was delicious.
To cap off the day, we went to hot springs of Bagni San Filippo. Tuscany has many hot springs which are thought to help cure and purify. The hot springs are free, and a different way to experience Tuscany. The water gets pretty hot, so no matter the season you can comfortably dip in.
Day 6 – Montepulciano and Siena

For our last day, we stuck around our home base and explored Montepulciano – a true Renaissance style town with a breathtaking view. The winding streets are car-free and allow you to meander from shop to shop. This city is known for the wine produced in the area, and they proudly offer a great selection.
We walked about the Piazza Grande, the main square of Montepulciano. It might look familiar, it's the scene from the Twilight saga, "New Moon." We also peaked into the Chiesa di San Biagio, a beautiful Renaissance church. Then we opted for the phenomenal views while sipping cappuccinos and eating croissants.
If you have time, check out a wine bar with a terrace where you can watch the sunset. A good choice is E Lucevan Le Stelle.
From here, you can head an hour away to Siena for one of the most incredible churches: Cathedral Santa Maria Assunta. Also, climb up the Facciatone for panoramic views of the tower and the main square. You can also go shopping on Banchi di Sopra, the main shopping street.
Other towns of note in Tuscany are: Lucca, Chianti, Cortona, San Gimignano, and Volterra. If you'd like to round out your trip, you can do 7 days in Tuscany and hit up all these places!
If you have more time, head down to the Amalfi Coast (Capri, Positano, Amalfi, and Ravello) for an exquisite stay by the sea. See my full guide here.
In Tuscany, you can't go wrong. All of the towns are so lovely and each is a bit different and charming than the next. I'm sure the Tuscan hill towns will beckon you back again and again. Whether it's the delicious food, wine, or cypress-lined driveways, you'll find a reason to come back. Italy always seems to do that to us.