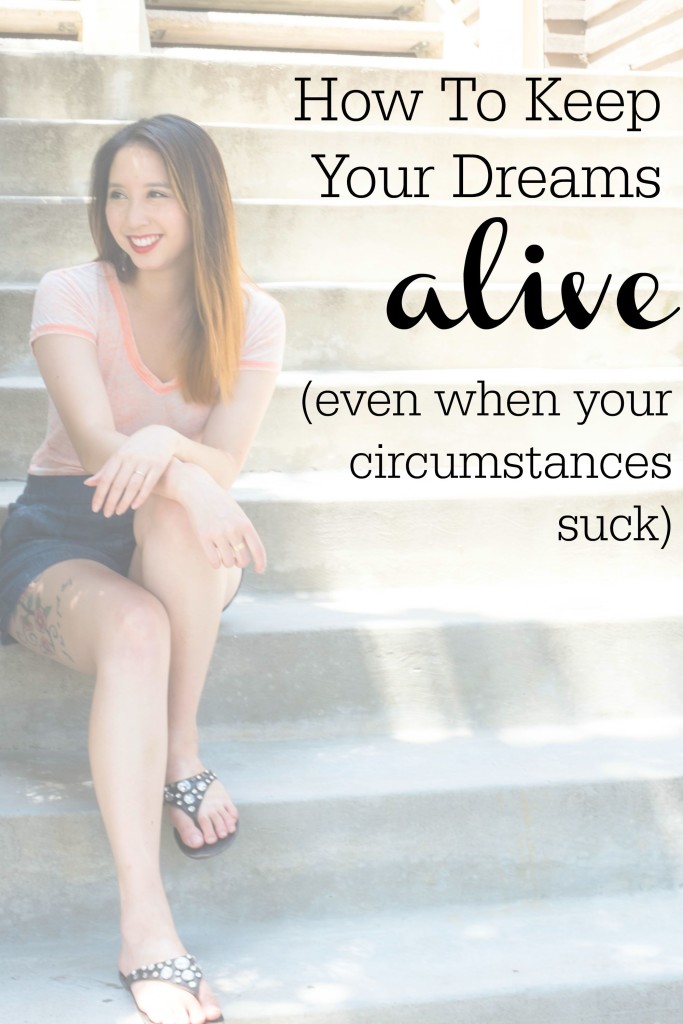 Here's something I hear often from people in their 20s and 30s: I wish I could do X, but I have to do Y.
Usually, they're referring to a passion that they've placed on the back-burner because they're trying to build a career. Or, they wish they had the resources to start a business but they can't afford a loss. And finally, most folks I know wish they could make a difference in the lives of people in need, but they don't know how to reach them.
We have been told to follow our passions and chase our dreams, but life is rarely so simple. The reality is that we are committed to multiple things, all of which are demanding: work, school, family, relationships, health, and the list goes on.
At the same time our dreams are important. Our desires to create art, to change a life, and to use our resources for impact are good desires. These are things we don't want to lose sight of, even when circumstances dictate more urgent pursuits.
I hope that we can all keep our dreams alive, no matter our circumstances. Even if it means that you and I have to be patient for the day we can pursue that dream full-time, we want to still have that dream when we finally have the resources.
Keeping a dream alive means that you don't forget what makes you unique; you may be in the same Starbucks line as everybody else, but your deepest passions set you apart from them.
Don't lose your dreams. I hope that you and I can be the kinds of people who know exactly what to do with our extra resources. I hope we'll be ready, passions in hand, to make the difference in the future that we desire to make today.
How to Keep Your Dreams Alive (even when your circumstances suck)
1) Create a "dream fund".
Invest in that dream, a little bit at a time. Even if it's just a few dollars per week that you set aside from your paycheck, you'll have a few hundred dollars in a couple of years. That could certainly pay for a few classes, some materials, or a flight somewhere!
2) Talk about it with people who love you.
You know how they say that even when someone passes away, they only truly die when they're forgotten? It's the same with your dreams and passions! The more you talk about them, the more likely they are to stay alive. And when you go for them at full-speed, you'll already have a cheering squad.
3) Build a hobby around one aspect of your dream.
If you can't pursue it 100% right now, find one thing about your dream that you can focus on slowly. Wish you could open a cafe, but don't know how to bake? Want to work with refugees overseas but can't speak the language? I think you know what to do!
4) Connect with leaders in the field.
There might not be anyone who does exactly what you want to do, but there are probably professionals you know in the field. Reach out to them for advice and an inside look. Some might even offer to give you a tour of their organization, or find ways that you can be involved in your free time.
5) Simplify your home, your schedule, and you mind.
I believe that living simply is a huge component to accomplishing great things. The less we are bogged down by clutter, the more we can focus on what truly matters to us. Find ways to sell the clothing you don't wear, commit to no longer buying things you don't need, and do a social media detox every once in a while.
Related: 10 Simple Living Tips For Millennials


6) Choose courage in your everyday life.
You know how the heroes of every fairytale often realize they were heroes all along? Being brave is something we have to cultivate over time; we can't simply manufacture it when we need it. This is why I wrote a workbook on practicing courage, which you can get for free by signing up for my weekly letters!
7) Hope, pray, and believe.
Do you believe in your own dreams? Well, you should! Before we can get anywhere with our ambitions, the first person we have to convince is ourselves. So when life is rough and hope is low, remind yourself that it doesn't have to be the end of your dreams. You don't have to say goodbye yet.
$100 Giveaway: I want to invest in your dream.
Really! I want to invest in YOURS. If you win, you'll receive $100 in your Paypal account and congratulations from me. I hope it brings you one little step closer to fulfilling that precious dream of yours.
And if you don't win, I hope that my blog Simplicity Relished will encourage you to continue to choose simplicity and live courageously. Let's inspire each other!
Thank you so much for this inspirational post from Daisy! I definitely need it today as I stare at a moving trailer and very VERY little sleep.